Three-dimensional (3D) machine vision, once considered little more than a novelty, may finally be finding its niche in high-volume manufacturing.
Increasingly, manufacturers are deploying the technology in applications ranging from assembly of automotive car doors and hoods to part stacking, can filling, and tire inspection. And with new lightweight cameras, better software libraries, and more powerful multicore processors on the horizon, deployment of the technology is expected to grow further during the next few years.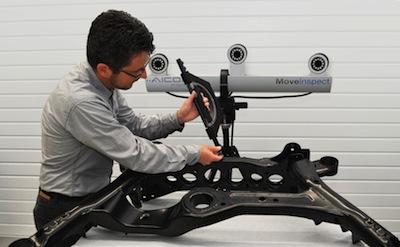 "We're reaching an inflection point where 3D vision is going to become much more common," John Petry, vision software marketing manager for Cognex Corp., a major manufacturer of machine vision systems, told us. "People are getting just enough machine vision experience under their belts, and they're starting to look to system integrators to help them support their 3D applications."
Indeed, the number of potential applications is growing fast, particularly as automakers look to ratchet up US-based production by a million more vehicles per year. Assembly of car doors, hoods, engines dashboards, and LED lighting displays is increasingly being handled by robots equipped with 3D vision. Inspection of hose assemblies, such as fuel and brake lines, has also migrated from visual methods to 3D camera-based systems, as has checking of tire treads and threaded holes. Outside the auto industry, engineers are employing 3D machine vision for semiconductor wafer inspection, as well as for food and pharmaceutical processing. Objects with round shapes -- bottles, pins, and needles, for example -- are also candidates for 3D machine vision.
To be sure, the vast majority of machine vision applications are still two-dimensional. Manufacturing engineers say that 3D applications are still a niche, but they're a growing niche.
"We've been getting a lot more inquiries in the past three to four months," Robert Couture, senior machine vision specialist for EngATech Inc., a system integrator of machine vision systems, told us. "All of a sudden, the floodgates have opened and manufacturers are starting to spend money again."