Overcoming complexity
In truth, 3D machine vision is not a new idea. Manufacturers have looked at it as a possibility for at least two decades, largely so they could go beyond inspection of surface defects and see depths more effectively.
"3D machine vision has been around for a very long time," said David Michael, director of core vision and applications for Cognex, in a Design News interview. "The world is 3D, not 2D, so this is a direction that people want to move in."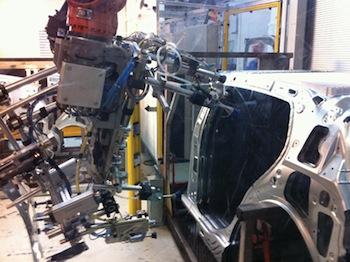 The path to 3D has been strewn with stumbling blocks, however. The mathematics behind it are complex, software libraries have been spare up to now, and robustness has been lacking. For many hopeful users, outside expertise was needed to get the job done.
"3D is hard," Petry said. "A lot of automotive companies have been working on this for 20 years. And a lot of vision companies have gone bankrupt trying to support the applications. It's an order of magnitude harder than 2D."
The good news, however, is that machine vision manufacturers believe they're crossing over into a new era, in which vast software application libraries are becoming more plentiful and 3D vision packages are growing more user-friendly.
"In the past, it had to be a very specialized person to make it go," Michael said. "But the trend now is moving from the specialized expert to a normal manufacturing engineer who can deploy this with enough training."
Cognex's VisionPro 3D, for example, incorporates a software library that is specifically designed for machine builders and plant automation engineers. It includes a software library with 3D shapes, mathematical tools, and calibration software for a variety of applications. Similarly, MVTec Software GmbH now offers Halcon 9.0 for 3D alignment and reconstruction, which helps to determine 3D shapes and orientation of objects.
Couture said that such systems enable manufacturers to address manufacturing problems that couldn't be touched with classical 2D solutions. He cites an example of a candy bar manufacturer who wanted to inspect chocolate bars to see if they contained almonds. By measuring the depth of the bar, he says, the manufacturer could tell if the almonds were present or missing.
"The whole bar is coated in chocolate, so you have very poor contrast," he said. "But with 3D, the almond pops out at you."
Check back next week for part 2 of this article, "Better Cameras Simplify Machine Vision."
Further reading: