The trend toward lightweight materials in transportation means more aluminum, magnesium, and titanium are being used. With more aluminum involved, there's more coupling of aluminum and steel parts, so eliminating galvanic corrosion is becoming a large part of design, Patrick Scalera, Henkel's technology manager for general industrial surface treatments, told us.
For example, there's his company's Alodine EC2, a new base coating for protecting parts made of aluminum, titanium, and related alloys in severe environments. The coating process is electrolytic, producing a tough, flexible titanium oxide coating with high resistance to abrasion, corrosion, extreme temperatures, and chemicals, Scalera said. Its primary applications are in the marine and industrial sectors. The coating is also used in automotive applications, such as piston and intake manifold coatings.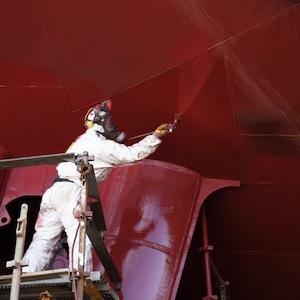 Shawn Dolan, Henkel's senior research scientist, told us that, in addition to protecting inboard and outboard marine engines, the coating can be used for cast aluminum lights on large bridge structures spanning salt water. "The corrosion on these bridges is very bad. In that environment, we've actually tested our coating for as long as 8,700 hours, which is a full year."
Automotive internal combustion engines are shifting to more turbocharged types, such as those that use exhaust gas recycling, Dolan said. "That means a lot of hot, corrosive gases recirculating -- a very aggressive environment. Temperatures on the crown of the piston can reach over 537C. Our coating protects the pistons and the whole engine at those temperatures." The EC2 coating is also used in military engines, and NASA is testing it for rocket engines.
The coating itself is stable to 900C, but the metal it coats melts at 600C to 660C, depending on the alloy.
Matt Hagemeyer, application engineering and technical service specialist for industrial assembly and maintenance at Dow Corning, said one trend it sees is demand for anti-friction coatings that last longer under various conditions.
As automotive manufacturers try to achieve federal mileage goals, there will be a sizable increase in the use of anti-friction coatings, such as Dow Corning's Molykote. These coatings are lubricating paints, also called dry-film bonded lubricants, which may be used to coat pistons and other rotating parts of an engine. They are replacing grease and other wet lubricants, because they are easier to handle and less messy, don't attract dust, and look better.
"Sometimes they replace coatings designed to resist corrosion," Hagemeyer said. "Dry-film anti-friction coatings can be used everywhere in assembly, from fasteners to clips and springs to threaded connections."