The team's initial project task is to develop and demonstrate a remote-controlled robot that can remove the insulating blanket flap that covers the satellite's fuel access port by cutting the plastic tape that holds it in place without damaging the blanket or the flap itself, so it can be reattached. A long-distance test of this procedure is planned, during which an operator at Johns Hopkins will guide a robot located in West Virginia through the tape-cutting procedure.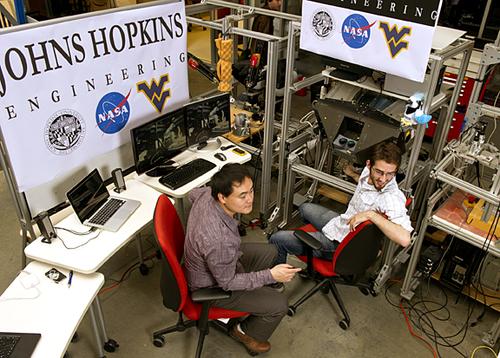 The Goddard Space Flight Center houses NASA's Satellite Servicing Capabilities Office, which runs the Notional Robotic Servicing Mission. The office has already begun a predecessor project, the Robotic Refueling Mission. In September, this mission's tools module was installed on the International Space Station. This mission is a joint project of NASA and the Canadian Space Agency. It includes the space station's Dextre robot, remotely controlled by flight controllers at Goddard. In addition, there are specialized tools for cutting and manipulating wires, unscrewing caps, opening and closing valves, and transferring the fluid fuel. The tools were developed by the same engineers that created the astronaut's tools used for servicing the Hubble servicing missions. The Robotic Refueling Mission's purpose is to demonstrate the feasibility of a remote-controlled robot performing servicing operations, such as refueling.
Further reading:




4
Using almost 200 light-emitting diodes in the front and back of the new 2014 CTS, Cadillac designers are showing how LEDs can change the character of a vehicle.

0
Carbon fiber composites are being used in a satellite fuel tank designed to burn up on re-entry.

3
One of the university-level research efforts to improve the composition of lithium-ion batteries through nanotechnology has gone commercial.

0
Yin-Mei Li of the University of Science and Technology of China developed a way to manipulate blood cells using lasers.

17
We looked at a number of sources to determine this year's greenest cars, from KBB to automotive trade magazines to environmental organizations. These 14 cars emerged as being great at either stretching fuel or reducing carbon footprint.


A quick look into the merger of two powerhouse 3D printing OEMs and the new leader in rapid prototyping solutions, Stratasys. The industrial revolution is now led by 3D printing and engineers are given the opportunity to fully maximize their design capabilities, reduce their time-to-market and functionally test prototypes cheaper, faster and easier. Bruce Bradshaw, Director of Marketing in North America, will explore the large product offering and variety of materials that will help CAD designers articulate their product design with actual, physical prototypes. This broadcast will dive deep into technical information including application specific stories from real world customers and their experiences with 3D printing. 3D Printing is




Datasheets.com Parts Search
185 million searchable parts
(please enter a part number or hit search to begin)