Automation & Motion Control

The team's initial project task is to develop and demonstrate a remote-controlled robot that can remove the insulating blanket flap that covers the satellite's fuel access port by cutting the plastic tape that holds it in place without damaging the blanket or the flap itself, so it can be reattached. A long-distance test of this procedure is planned, during which an operator at Johns Hopkins will guide a robot located in West Virginia through the tape-cutting procedure.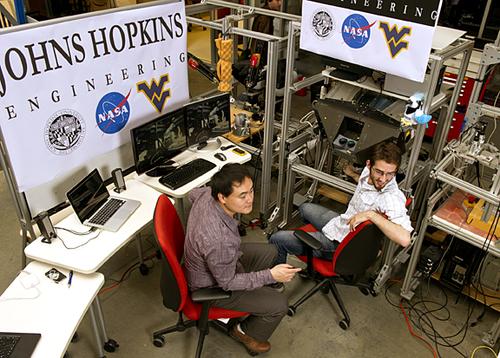 The Goddard Space Flight Center houses NASA's Satellite Servicing Capabilities Office, which runs the Notional Robotic Servicing Mission. The office has already begun a predecessor project, the Robotic Refueling Mission. In September, this mission's tools module was installed on the International Space Station. This mission is a joint project of NASA and the Canadian Space Agency. It includes the space station's Dextre robot, remotely controlled by flight controllers at Goddard. In addition, there are specialized tools for cutting and manipulating wires, unscrewing caps, opening and closing valves, and transferring the fluid fuel. The tools were developed by the same engineers that created the astronaut's tools used for servicing the Hubble servicing missions. The Robotic Refueling Mission's purpose is to demonstrate the feasibility of a remote-controlled robot performing servicing operations, such as refueling.
Further reading: