Automation & Motion Control

The team's initial project task is to develop and demonstrate a remote-controlled robot that can remove the insulating blanket flap that covers the satellite's fuel access port by cutting the plastic tape that holds it in place without damaging the blanket or the flap itself, so it can be reattached. A long-distance test of this procedure is planned, during which an operator at Johns Hopkins will guide a robot located in West Virginia through the tape-cutting procedure.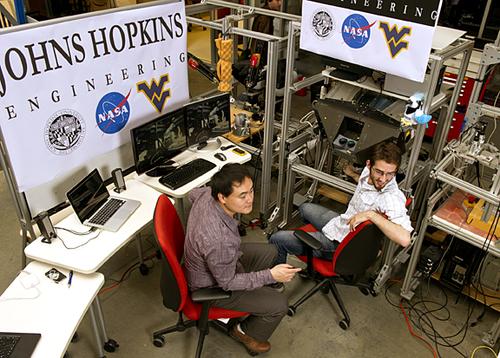 The Goddard Space Flight Center houses NASA's Satellite Servicing Capabilities Office, which runs the Notional Robotic Servicing Mission. The office has already begun a predecessor project, the Robotic Refueling Mission. In September, this mission's tools module was installed on the International Space Station. This mission is a joint project of NASA and the Canadian Space Agency. It includes the space station's Dextre robot, remotely controlled by flight controllers at Goddard. In addition, there are specialized tools for cutting and manipulating wires, unscrewing caps, opening and closing valves, and transferring the fluid fuel. The tools were developed by the same engineers that created the astronaut's tools used for servicing the Hubble servicing missions. The Robotic Refueling Mission's purpose is to demonstrate the feasibility of a remote-controlled robot performing servicing operations, such as refueling.
Further reading:



A middle school team from Rochester, Mich., has again nabbed the grand prize in the annual international Future City Competition, which drew students from 37 regions of the United States, as well as from England and China.

3
The actor captured imaginations and inspired scientists and engineers all over the world in his role as Star Trek's Mr. Spock.
You know you're an engineer if you chuckle whenever anyone says "centrifugal force," or you find yourself at the airport studying the baggage handling equipment.

3
The word "smart" is becoming the dumbest word around. It has been applied to almost every device and system in our homes. In addition to smartphones and smart meters, we now hear about smart clothing and smart shoes, smart lights, smart homes, smart buildings, and every trendy city today has its smart city project. Just because it has a computer inside and is connected to the Web, does not mean it is smart.
Are you being paid enough? Do you want a better job? According to a recent survey Manpower released just before Engineers Week, employers and engineers don't see eye-to-eye about the state of US engineers' skills and experience.

Focus on Fundamentals consists of 45-minute on-line classes that cover a host of technologies. You learn without leaving the comfort of your desk. All classes are taught by subject-matter experts and all are archived. So if you can't attend live, attend at your convenience.