A modified Da Vinci surgical robot is helping NASA study how robots can refuel and service space satellites, remotely controlled from Earth. The agency's Notional Robotic Servicing Mission is looking for ways that fully robotic spacecraft can perform servicing of GEO (geosynchronous earth orbit) satellites in space, avoiding the cost and danger of sending astronauts to do the same job.
In a recent demonstration, engineering and computer science graduate students at Johns Hopkins University's campus in Baltimore modified a Da Vinci surgical robot console and used it and a workstation to control an industrial robot at NASA's Goddard Space Flight Center 30 miles away. The modified surgical robot also included a 3D eyepiece, which allowed the Baltimore operator to guide the remote industrial robot. The Da Vinci robot's 3D HD vision system gives operators 3D high-definition video displays for accurate depth perception, as well as an immersive experience that feels as if the robot is a virtual extension of the operator's body.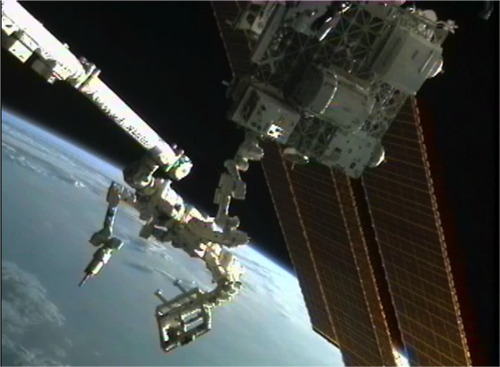 The goal of the research is to adapt strategies used in robotic operating rooms to the tasks needed to repair and service broken satellites and other in-orbit space hardware. Repairing a satellite fuel line, for example, includes complex and delicate tasks that are not that different from the complex tasks a surgeon must perform when guiding a robot through delicate abdominal surgery. "We're using the expertise we've developed in medical robotics technology and applying it to some of the remote-controlled tasks that NASA wants space robots to perform in repairing and refueling satellites," said Louis Whitcomb, a Johns Hopkins mechanical engineering professor, in a press release. Whitcomb helped supervise the Goddard Space Flight Center end of the demonstration.
The John Hopkins engineers' work was done in cooperation with West Virginia University, and funded by a research grant from NASA. John Hopkins' Sensing, Manipulation, and Real-Time System (SMART) lab has done extensive research on components and integrated systems required for computer-assisted surgery. Researchers have explored the integration of real-time imaging, such as video and ultrasound, for robotic assistance in applications such as microsurgery. Component technology research includes high-performance motor control, electromagnetic and inertial sensing, and sensor fusion.




6
When Dick Neubert discovered that his fireplace's heatilators lost heat when not in use, he created a gadget to rectify the situation.

4
Microsoft will quit supporting – and patching – Windows XP in April. This may be a cruel development for plants.

2
Injection molding can be a powerful tool for both prototyping and production. Here are some tips on how design engineers can get the most out of it.

3
Truchard will be presented the award at the 2014 Golden Mousetrap Awards ceremony during the co-located events Pacific Design & Manufacturing, MD&M West, WestPack, PLASTEC West, Electronics West, ATX West, and AeroCon.

14
In a bid to boost the viability of lithium-based electric car batteries, a team at Lawrence Berkeley National Laboratory has developed a chemistry that could possibly double an EV's driving range while cutting its battery cost in half.


LATEST ARCHIVED BROADCAST
For industrial control applications, or even a simple assembly line, that machine can go almost 24/7 without a break. But what happens when the task is a little more complex? That's where the "smart" machine would come in. The smart machine is one that has some simple (or complex in some cases) processing capability to be able to adapt to changing conditions. Such machines are suited for a host of applications, including automotive, aerospace, defense, medical, computers and electronics, telecommunications, consumer goods, and so on. This discussion will examine what's possible with smart machines, and what tradeoffs need to be made to implement such a solution.



Datasheets.com Parts Search
185 million searchable parts
(please enter a part number or hit search to begin)