As touch-mania swipes across all markets, many applications look to upgrade to multitouch but can't afford the high price of capacitive touchscreens. Now automobiles, appliances, medical devices, and low-end smartphones can retrofit multitouch gestures to resistive-touchscreen designs, or create inexpensive alternatives to capacitive touchscreen products, by merely upgrading their controller-chips to Freescale Semiconductor Inc.'s new Ready-Play solution. The new Xtrinsic smart controller provides multitouch gesture recognition for any standard four- or five-wire resistive touchscreen and handles up to four capacitive touchpads.
"As tablets become more popular, the capacitive touchscreen business has been growing by over $200 million" per year, "but the resistive touchscreen market has been growing at almost the same rate," said John Weil, global business manager for industrial MCU solutions at Freescale. "Adding a resistive touchscreen is a quick and inexpensive way to enrich existing and new applications in medical, consumer, automotive, and other markets."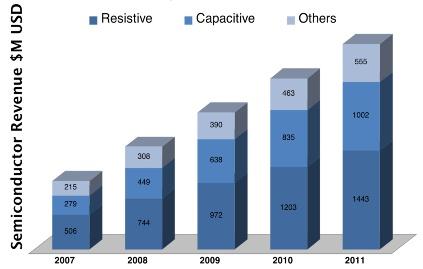 Using proprietary algorithms, and some analog hardware tricks, the new Xtrinsic CRTouch chip provides on-chip state-machines that can recognize slides, two-finger pinches for zooming in and out, as well as multifinger rotations on standard resistive touchscreens. The controller chip also manages up to four capacitive touchpads for realizing keypads, rotary dials, and linear sliders.