As touch-mania swipes across all markets, many applications look to upgrade to multitouch but can't afford the high price of capacitive touchscreens. Now automobiles, appliances, medical devices, and low-end smartphones can retrofit multitouch gestures to resistive-touchscreen designs, or create inexpensive alternatives to capacitive touchscreen products, by merely upgrading their controller-chips to Freescale Semiconductor Inc.'s new Ready-Play solution. The new Xtrinsic smart controller provides multitouch gesture recognition for any standard four- or five-wire resistive touchscreen and handles up to four capacitive touchpads.
"As tablets become more popular, the capacitive touchscreen business has been growing by over $200 million" per year, "but the resistive touchscreen market has been growing at almost the same rate," said John Weil, global business manager for industrial MCU solutions at Freescale. "Adding a resistive touchscreen is a quick and inexpensive way to enrich existing and new applications in medical, consumer, automotive, and other markets."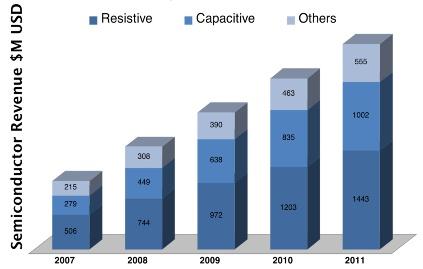 Using proprietary algorithms, and some analog hardware tricks, the new Xtrinsic CRTouch chip provides on-chip state-machines that can recognize slides, two-finger pinches for zooming in and out, as well as multifinger rotations on standard resistive touchscreens. The controller chip also manages up to four capacitive touchpads for realizing keypads, rotary dials, and linear sliders.




1
Contributing editor Cabe Atwell developed a Raspberry Pi and Arduino-based remote network fish tank control for his goldfish, Goldie Fishwater.

6
Are they robots or androids? We're not exactly sure. Each talking, gesturing Geminoid looks exactly like a real individual, starting with their creator, professor Hiroshi Ishiguro of Osaka University in Japan.

1
Hybrid vehicle engineers may now have a way to do hardware-in-the-loop simulation testing, instead of physical dynamometer testing, on the electric motors that propel their cars.

8
NASA is developing Project Morpheus, a vehicle that can lift off and set itself down on planetary surfaces.

19
Nissan Motor Co. is taking the electric vehicle into new territory, rolling out an exotic-looking three-seat concept car that combines sustainability with race car-like performance.


LATEST ARCHIVED BROADCAST
For industrial control applications, or even a simple assembly line, that machine can go almost 24/7 without a break. But what happens when the task is a little more complex? That's where the "smart" machine would come in. The smart machine is one that has some simple (or complex in some cases) processing capability to be able to adapt to changing conditions. Such machines are suited for a host of applications, including automotive, aerospace, defense, medical, computers and electronics, telecommunications, consumer goods, and so on. This discussion will examine what's possible with smart machines, and what tradeoffs need to be made to implement such a solution.



Datasheets.com Parts Search
185 million searchable parts
(please enter a part number or hit search to begin)