The light-emitting diode (LED) has been called the most efficient controllable light source ever created. It can deliver a lot of light for a little power, by some accounts offering 10 times as many lumens per watt as an incandescent. It can also control its own brightness and color, making it a strong candidate for applications that call for "smart" lighting capabilities.
Equally important: LED cost is plummeting. Thanks to a phenomenon known as Haitz's Law, LED cost is said to be falling by a factor of 10 every decade, while the light generated per package rises by a factor of 20.
That's where the holidays come in. Low cost and high brightness are a good combination for the holidays. Strings of lights don't sell if they're wildly expensive, and LED cost has dropped just far enough to enable holiday celebrants to invest in them.
Here, we've collected photos from recent LED usage on trees, bushes, and holiday signs. From Christmas to New Year's Eve to Halloween, from battery power to electric-eel-power, we present a smorgasbord of innovative holiday uses for LEDs.
Click the image below to start the holiday LED slideshow: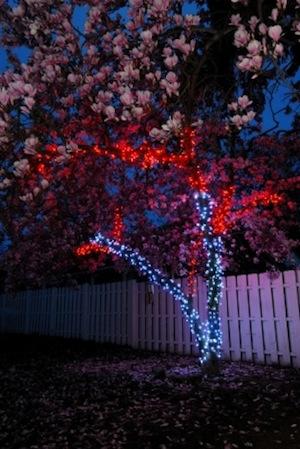 Further reading: