If you start your car two or three times a day, prepare for a shock. Over the next decade, that figure is likely to rise by a factor of 10. Soon your car's engine will automatically shut down at traffic lights and stop signs. It will turn off during heavy rush-hour driving. It may even shut down when you pull your foot off the accelerator and coast, possibly at speeds of up to 75mph. Experts say the so-called start-stop wave is coming, and the auto industry is bracing for its arrival.
"It's going to start happening in 2012," says Doug Patton, senior vice president of engineering for Denso International America, an automotive supplier introducing a family of starters. "And it's going to ramp up fast. The start-stop change will affect a large percentage of the market over the next three years."
Click the image below to start the slideshow.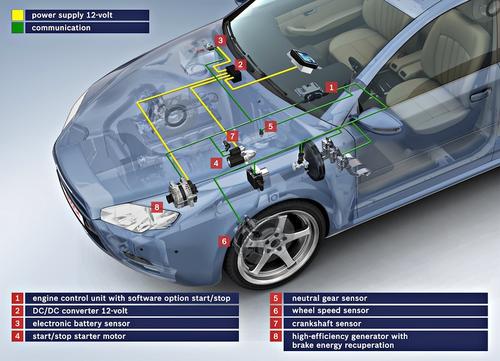 US automakers have begun unveiling a new breed of start-stop-equipped vehicles. Ford, Chevy, Buick, Kia, and BMW will roll out the technology early in 2012. Their vehicles will join a handful of models from Fiat, Volvo, and Alfa Romeo that already have it. Moreover, start-stop has also taken hold in Europe, where the percentage of new vehicles carrying the technology has risen from about 5 percent in 2008 to more than 20 percent today.
The reason for this seemingly sudden phenomenon is obvious. When your engine is turned off, it doesn't burn gasoline. suppliers say brief shutdowns can boost fuel efficiency by 3 to 10 percent. That figure will rise even higher if automakers are willing to shut off the engine while the car is coasting.
Chances are that the technology will be adopted quickly, even if consumers don't demand it. New corporate average fuel economy (CAFÉ) regulations in the US call for cars and light-duty trucks to reach 54.5mpg by 2025, adding a sense of urgency to start-stop's uptake.
"Eventually, we'll see 100 percent of new vehicles offering start-stop," Patton says. "It will probably happen over the next 10 to 15 years."