With the move toward essentially a plant-wide network, one growing trend is development of more products to support higher backbone data rates. More bandwidth is a key advantage as more functions run from the network, and the escalation requires more bandwidth in the network infrastructure.
"With a fieldbus, customers had a very dedicated network and many times they were only transferring I/O," says Ng. "Now with the Ethernet infrastructure, customers have the ability to have voice-over-IP and multiple protocols all riding on that same infrastructure."
A third major trend is the interest and adoption of wireless, both new wireless standards such as 802.11n or incorporating wireless as another method of engineering a solution. Wireless is being applied to replace physical connections or to eliminate wiring where in the past a physical slip ring and connection was used to provide data to a moving object. People are also investigating wireless solutions to reduce the engineering effort and the points of electro-mechanical failure.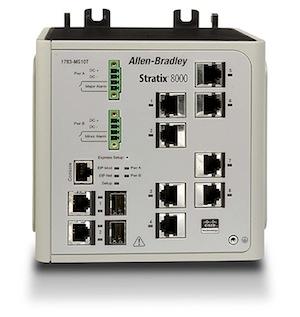 Prime examples would be applying wireless technologies in automated guided vehicles (AGVs) or automated storage-retrieval systems (ASRS) applications that are moving a lot of equipment and, at the same time, tracking a lot of data. These kinds of applications are in the sweet spot for going to a plant-wide network that focuses on wireless connectivity.
Along with the trends comes a certain level of challenges, including people becoming receptive to the plant-wide network, and having large networks for both of their production and business level operations. Plus, there is increased focus on interfacing with IT to address the business concerns of connecting those systems.
While the goal is to move large amounts of data regardless if you're in IT or you are the plant engineer, that production data is going to supply a certain level of business excellence. At the same time, there is more need to understand how to plan those networks accurately. Ng says there is also more discussion needed in the advanced planning of networks, accurately segmenting the networks, implementing a comprehensive industrial network security concept, and assigning domain experts.