Stratasys has become the first 3D printer company to offer a monthly lease option for bundled printer, software, and supplies. For less than the average monthly cost of outsourcing a single model or part, engineers can lease a professional uPrint printer, software, and all necessary supplies. The move comes as a logical extension of existing trends.
Bundled uPrint Print Packs include new special-edition versions of the company's uPrint 3D printer, the uPrint SE and uPrint SE Plus. Also included are CatalystEX software, startup supplies, a support removal system, and a cleaning station. The monthly lease price is $290 and $380, respectively, compared to the average price for getting a part made in a service bureau, which is $400, Jon Cobb, vice president of marketing for Stratasys, told Design News.
"There are three main differences between this offering and the previous uPrint printer," says Cobb. "We lowered the price on the 3D printing product by about 10 percent. We also increased the volume of the canister, the filament supply, by 30 percent. We added a new support material, based on a new filament called SR-30, which allows supports in both uPrint SE and uPrint SE Plus to be dissolved using water, a faster way than in the past."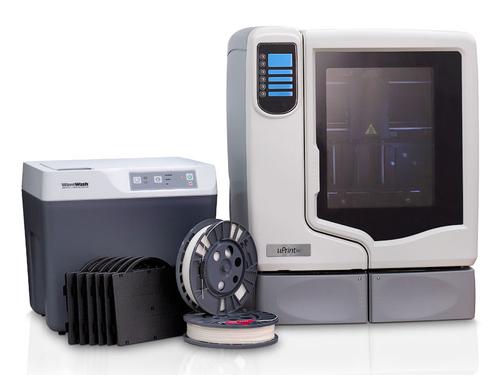 The new uPrint special edition machines replace the original uPrint and uPrint Plus. Instead of the 30 cubic inches available in the original uPrint series, material spools now contain 42 cubic inches of material. This requires less frequent spool changes and gives engineers the option of longer unattended print runs than before. Both printers use SR-30 soluble support material, which dissolves up to 50 percent faster in an agitation tank than the older support material, speeding part production. Like previous models, the new printers are designed for office use without the need for a dedicated operator, and maintain the small footprint of 25 inches by 26 inches.



Contributing editor Cabe Atwell developed a Raspberry Pi and Arduino-based remote network fish tank control for his goldfish, Goldie Fishwater.

1
Are they robots or androids? We're not exactly sure. Each talking, gesturing Geminoid looks exactly like a real individual, starting with their creator, professor Hiroshi Ishiguro of Osaka University in Japan.
Hybrid vehicle engineers may now have a way to do hardware-in-the-loop simulation testing, instead of physical dynamometer testing, on the electric motors that propel their cars.
NASA is developing Project Morpheus, a vehicle that can lift off and set itself down on planetary surfaces.

8
Nissan Motor Co. is taking the electric vehicle into new territory, rolling out an exotic-looking three-seat concept car that combines sustainability with race car-like performance.


LATEST ARCHIVED BROADCAST
For industrial control applications, or even a simple assembly line, that machine can go almost 24/7 without a break. But what happens when the task is a little more complex? That's where the "smart" machine would come in. The smart machine is one that has some simple (or complex in some cases) processing capability to be able to adapt to changing conditions. Such machines are suited for a host of applications, including automotive, aerospace, defense, medical, computers and electronics, telecommunications, consumer goods, and so on. This discussion will examine what's possible with smart machines, and what tradeoffs need to be made to implement such a solution.



Datasheets.com Parts Search
185 million searchable parts
(please enter a part number or hit search to begin)