The platform consists of a printed circuit board based on Freescale's i.MX28 processor (see Freescale automotive application processors on Datasheets.com), modules for Bluetooth and WiFi communications, a panic alarm sensor, quick-start guides, design files, cables, and software.
Freescale teamed with UI Centric on an Android-based medical user interface, with Stonestreet One on Bluetooth technology, with QNX on medical user interfaces, and with Microsoft on connecting through the cloud to the Microsoft HealthVault. The HealthVault is a Web-based platform of individuals' health and fitness information.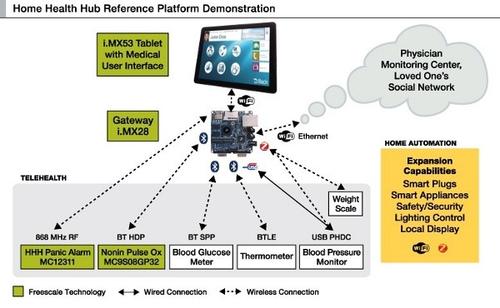 "If you have a wireless medical device, this will connect to it," Niewolny asserts.
He says the gateway serves as a focal point for computing platforms and medical devices. On the computing platform side, it connects to a PC, tablet computer, or smartphone. On the medical device side, it links to medical meters and sensors. The reference platform serves as an electronic foundation for gateway builders to create their own flavors of in-home medical gateways.
The technology is targeted at three different kinds of users: younger patients who employ it for wellness maintenance; older patients who might use it for chronic disease management; and rural users who don't have easy access to doctors.
"The idea is that it's easier if you can just send your data to a record where a medical professional can look at it," Niewolny says. "It's a gateway solution, just like any other sort of networking gateway, but your sensor nodes are medical devices."
Niewolny notes that the information can be sent to data collection points where doctors can read it, or it may be stored for the patient's own personal use.
"The doctor is not going to look at every piece of data that's been collected. But there are a lot of good software engineers out there who will write algorithms to help the doctor decide which pieces of information they should be looking at and which pieces of information they shouldn't."
Freescale says the platform will cost $499 and will begin shipping early in 2012.