The five most important materials trends of this past year enable volume manufacturing. They are concerned mostly with new alternative materials or processes. Volume may start out small, but the material or processes will likely spur high growth. The five areas I look at are additive manufacturing (AM), plastics, composites, metals, and recycling.
Of course, high-volume manufacturing is not the only important kind. Several major developments affected applications and engineering designs for products made in smaller lots. In AM, for example, there were important breakthroughs affecting small runs and rapid prototyping.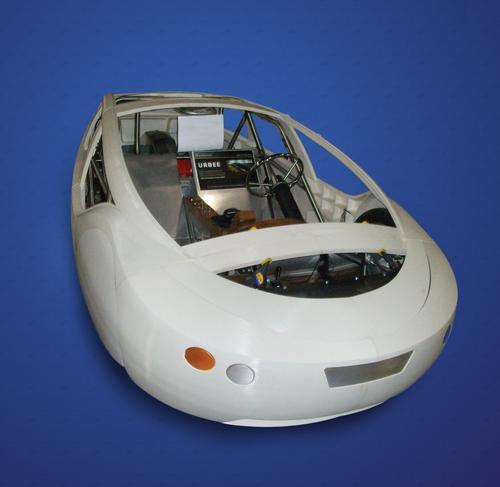 But it's high volumes of a product, or the techniques and processes that enable those high volumes, that can shake up an industry and even restructure it permanently. Several trends concern automotive manufacturing. Here, new materials and processes must not only meet regulations and cost objectives, but also must fit smoothly and easily into highly automated manufacturing processes without compromising them or slowing them down.
Additive manufacturing.
The most important development was the big burst of new materials, discussed succinctly in Materials Broaden Reach of Additive Manufacturing. One example is a scale model of the Urbee, the first car body prototype made with a 3D printer using Stratasys' Fused Deposition Modeling machines. The car's body panels were then built at full size. Most of the other examples in this article involve medical and dental applications, including customized silicone or photopolymer resin hearing aids and FDA-approved, biocompatible plastics and metal alloys for implants.
Plastics.
Aside from these medical-grade plastics, the most significant plastics breakthrough this year was bioplastics. Resin Producers Forge Ahead on Bioplastics looks at work on the development of engineering-grade plastics made from renewable resources, instead of hydrocarbons such as natural gas or oil. For example, Solvay is partnering with Avantium to develop high-performance polyamides, or nylons. DuPont is working on what has been a Holy Grail of bioplastics for several years: corn-based feedstocks. Past attempts were plagued with material defects -- they fell apart easily and quickly lost rigidity and strength in moist environments, such as landfills. My bet is on DuPont to figure out how to make this one work.
Automotive composites.
Demand is growing for several different types, primarily carbon and glass fiber. Carbon Composite Processes Eye Auto Production discusses this trend, as well as some breakthrough processes that compete with sheet metal for fabricating large structural automobile components. The most significant is Teijin's compression molding technology that cuts carbon-fiber-reinforced plastic molding times to under a minute, due to thermoplastic resins, which don't need curing time.
Steel and recycling.
The steel industry isn't taking this composites trend lying down. In Steel Fights Back Against Alternative Auto Materials, we learn that the lifecycle of electric vehicle production can contain hidden emissions, especially in the manufacture of composite and other alternative materials. The steel industry contends that those emissions are much lower for steel production, and that steel is fully recyclable, unlike alternatives. The industry also contends that newer lightweight, high-strength steel can give composites a run for their money when it comes to strength. The fact that alternative materials have provoked the steel industry into coming up with more lightweight materials sounds like at least one instance where the competition of the marketplace is working.
Composites and recycling.
The last major trend may fix one of the steel industry's complaints about composites. Boeing's celebrated launch of its composite-heavy 787 Dreamliner is one indication that carbon-fiber composites could be plentiful in landfills when they eventually wear out. The company's decision to help fund research on how to recycle those materials, detailed in Boeing to Recycle Dreamliner Composites, may presage or spark further work in this area, which could also affect the growing amount of plastics used in automotive and medical applications.

Further reading:



SpaceX CEO Elon Musk has unveiled the company's plans for a Interplanetary Transport System that would make it possible to create a self-sustaining city on Mars.
Two studies by leading companies show that energy plants are bullish on deploying IoT. They're using connectivity for planning, productivity gains, and safety.
Proto Labs, known for its super-fast-turn prototyping and low-volume production services with multiple materials and processes, has added another service to its repertoire: rapid overmolding.

1
Technology has proven over and over again to be tremendously empowering, to individuals and organizations alike. Misuse that power, however, and you might find yourself in big trouble.
Steadfast in its belief that diesel engines are right for the times, General Motors is expanding US availability of the compression-ignited technology in Chevrolet cars and light trucks.

Focus on Fundamentals consists of 45-minute on-line classes that cover a host of technologies. You learn without leaving the comfort of your desk. All classes are taught by subject-matter experts and all are archived. So if you can't attend live, attend at your convenience.