Wohlers says automotive manufacturers don't use AM for production at the same levels as the aerospace, medical, and dental industries. The high volumes "and types of parts produced for cars and trucks make it difficult to create a strong business case supporting AM for production." As materials become stronger and more rugged, and as the cost of materials and machines decline, the automotive industry will probably begin using AM to produce parts for finished products.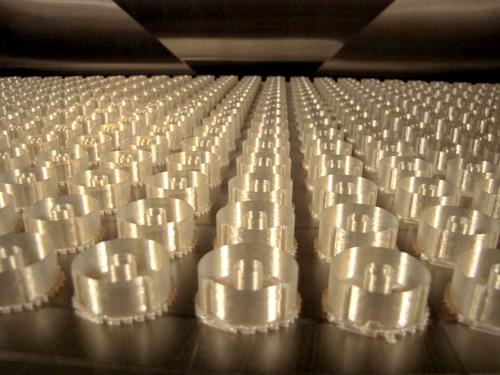 But Crutchfield sees an exception: Companies that produce low volumes of high-end car models have the right volumes and price points to take advantage of AM now.
And Jeff DeGrange, vice president of direct digital manufacturing for Stratasys, says racecars with designs that change between every race already use AM. "Between races, you have to redesign every part family and rebuild within days. It's only a handful of parts, but they must be made rapidly to keep to the racing schedule."
One bottleneck in automotive engineering and product development has always been tooling, which requires a fixed amount of time. Some plastic parts are created as "bridge" parts using selective laser sintering (SLS). Engineers can quickly get these on to the automobile and proceed with designing other parts that must be tooled, says Gregory Elfering, director of sales for 3D Systems' 3Dproparts division.
Some automotive manufacturing engineers looking for ways to make body style changes more automated and adaptable have settled on SLS for creating fixture parts and jigs that match up with those changes, Elfering says. For example, an engineer developing a gripper for placing a dashboard in a car during assembly can use CAD data for the dashboard to design the gripper.
In aerospace, quantities of a new part may be so low that there aren't enough buyers to justify full production. SLS is often used for these low rates of initial production (LRIP) parts in military and aerospace applications, says Elfering.