"At the National Fuel and Vehicle Emissions Lab" in Ann Arbor, Mich., "EPA investigators can develop technologies and patent them," says Brad Bohlmann, sustainability director for the Center for Compact and Efficient Fluid Power (CCEFP) at the University of Minnesota. "The EPA holds a number of patents in the hydraulic hybrid space, and Chrysler is leveraging those patents to do an investigation of how it would work in their Town & Country minivan."
Bohlmann says one of the things about hydraulic hybrids is that they love mass and work particularly well in heavier vehicles, such as refuse trucks. That's where we are seeing the first commercial systems go into production. About two years ago, Eaton came out with its hydraulic launch assist (HLA) system, targeted specifically at refuse trucks. Parker Hannifin is selling hydraulic hybrid systems in Class 6 package delivery vehicles used by FedEx and UPS.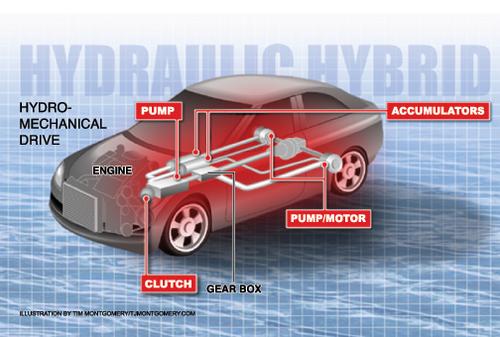 While commercial inroads are being made, Chrysler's next step is to bring that technology into a personal use vehicle. The EPA has demonstrated the technology in a vehicle as small as a Ford Explorer with good results, but there are challenges when it comes to scaling the technology down for a personal use vehicle.
"The hydraulic hybrids package [isn't] very large for use in heavy vehicles, but it's difficult to shrink things into a smaller package" for a personal use vehicle, says Bohlmann. "The primary challenges are packaging and noise vibration harshness (NVH). In a nonhybrid vehicle, the brake system is not regenerating energy, and essentially things are silent. But when you're driving a hybrid vehicle, you might be regenerating 50hp or 100hp, due to the regenerative power transmission that is taking place, and create audible noise as a result."
Bohlmann says there are a couple ways to deal with noise. One is to lower the sound power level, and the other is to modify its frequency, so that it's less irritating and noticeable. If you think about it in broad terms, Harley Davidson essentially sells noise, because people associate a Harley with a fairly loud thing; it's a positive aspect of a Harley Davidson motorcycle. That's not necessarily the case in a passenger car, but if the sound quality is right, a much higher sound power level may be acceptable. The goal is to work on the sound power level, the actual decibels of it, as well as the sound quality, which is much more about personal taste.