But the clever part of LifeTouch is not so much what it measures as what it does with the collected raw data.
Isansys needed the monitor (or patch) to be unobtrusive and inexpensive yet able to connect to the hospital's Intranet. Wireless technology looks after the connectivity, eliminating inconvenient cables (which can generate unwanted artifacts in the ECG signal).
To keep it unobtrusive, the device is compact and light. And because the patch needs to be cheap, it uses proven, readily available electronics.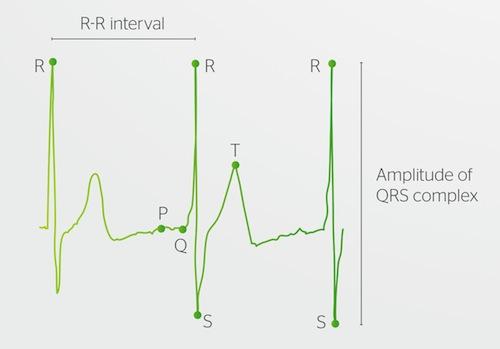 Isansys chose Nordic Semiconductor's nRF24AP2 single-chip connectivity, 2.4GHz, ultra-low-power transceiver running ANT's RF protocol software (with Isansys's own application layer) for the wireless functionality. Processing power is provided by Energy Micro's Gecko microcontroller. A CR2032 3V coin cell powers the electronics.
LifeTouch samples at 1,000Hz with 12-bit resolution, generating 12 kilobits of data per second. But instead of continuously transmitting across the wireless link, which would place a heavy toll on the battery, the device uses an intelligent data reduction algorithm whereby the key clinical parameters are extracted from the relatively large volume of raw data. The algorithm is extremely efficient and can reduce the 12kbps down to just a few hundred bits per second of essential data.
"We didn't need a radio with large bandwidth, but we did need one that was ultra-efficient and consequently yielded long battery life," says Errey. "That's one of the reasons why we chose Nordic's ANT chip."
According to Errey, Bluetooth wireless technology was not a good choice, because of power consumption and the fact that if the signal were lost, it would take a long time to reestablish the link. A ZigBee wireless connection was not suitable, because it's primarily designed for control applications, rather than healthcare. And low-power WiFi was far too demanding on the battery.
"The battery life using ANT technology is terrific," Errey says. "We've been able to transmit useful ECG data continuously for 150 hours from a single CR2032 coin cell battery. In a normal operational mode" -- transmitting four times a second with the microcontroller continually analyzing data -- "the battery life is specified for 100 hours of continuous operation."
The ECG patch transmits to a gateway device that acts as a hub -- which will eventually take the data from all of the patient wireless monitoring devices and perform more processing on the information before sending it via TCP/IP to the hospital Intranet.
Isansys' LifeTouch utilizes ANT's proven software protocol, as used in millions of wireless applications across the world. According to Errey, the ANT ecosystem increased the company's confidence in the technology.
On top of the base ANT protocol, Isansys has developed its own customized application layer that meets the stringent requirements demanded in medical implementations.
"It's important that we can maintain the required regulatory status of the protocol for the lifetime of the product," says Errey. "That includes not making clinical decisions on the rare occasions that data isn't successfully transmitted across the wireless link. The software tells us when that happens."
Such technology "will be mandated for every hospital patient in a few years' time, because it serves as a quantitative measure of healthcare delivery," he says. "The ability to provide this measure will become universal on the clinical care side, because, among other things, it will ensure that the hospital can prove to interested parties that it has met its duty-of-care obligations."
According to Errey, this issue will become even more important in 2012 as many major medical insurers in the United States threaten to classify intensive care readmissions as a failure by the hospital and refuse to pay for care. "I think that makes LifeTouch very timely. And it means wireless health monitoring is going to be vast. I really think this is the next big thing."
Jay Tyzzer is a senior application engineer with Nordic Semiconductor.