PTC is officially making good on its promised new capabilities for the Windchill 10.0 release, delivering a slew of new modules that expand the footprint of the PLM platform to key areas like service and quality management.
While PLM has always been positioned as the central repository for managing product-related data, from the early requirements gathering stage through in-field maintenance and support (the full product lifecycle, so to speak), that has hardly been the case. Most PLM systems have traditionally focused on the mid-engineering stage of development, providing a home for CAD models, BOM documents, and other related engineering materials, but were not fully equipped to manage service and parts information and quality data as part of closed-loop PLM system.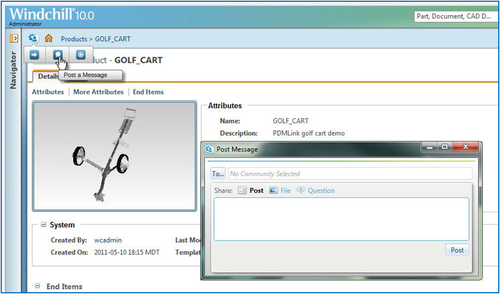 PTC is attempting to change that limitation with some of the more interesting aspects of the Windchill 10.0 release, specifically the Windchill Service Information Manager and its complementary Service Parts component. As opposed to traditional document-centric service management systems, the Windchill Service Information Manager's product-centric approach is designed to help companies better reuse information, allowing them to quickly identify components used in new products along with the associated service information.
The product-centric content maintains associativity with engineering CAD data throughout the entire lifecycle of the product, be it an airplane or vehicle, resulting in more accurate service and parts information, and in turn, enabling a more efficient customer support organization, PTC officials said.
The corresponding Windchill Service Parts module, built on the Windchill Service Information Manager foundation, also leverages CAD data to ensure that the most up-to-date parts information is stored in a service bill of materials (what PTC refers to as an sBOM). With this approach, spare parts information is maintained for every product configuration, and illustrated parts lists can be automatically created and distributed to stakeholders at any point in the product's lifecycle. This kind of capability is bound to come in handy for field technicians called in to service a jetliner 25 years after it was first put into service.
Enhanced product analytics was another area highly touted in the spring Windchill 10.0 release, and now PTC has officially brought those capabilities to market. Building on capabilities from its acquisition of InSight, Windchill Product Analytics has been enhanced to help manufacturers meet performance requirements around the new substances added as part of the expanded REACH directive in addition to the EU Battery directive.
In the area of quality management, the Windchill Quality Solution, based on technology from PTC's Relex acquisition, now delivers new closed-loop capabilities that ensures that problems can be included within the enterprise change management process and that Creo design characteristics will be incorporated as part of a failure analysis. New modules include Windchill Nonconformance for automating repeatable processes for validating non-conforming products, and Windchill MSG-3, another new module, this one for helping aircraft maintenance crews identify and schedule reliability-centered maintenance tasks that are in accordance with ATA standard MSG-3 regulations.
PTC also took this opportunity to advance the so-called social product development aspects of Windchill. Borrowing a page from popular social networks like Facebook, Windchill SocialLink, as part of the latest 10.0 platform upgrade, now lets users add Windchill product events into a community activity feed or lets users post directly to communities from the PLM platform using a new embedded social tool bar.
For further reading: