With its latest Maximus technology, Nvidia has pushed the envelope even further to bring high-performance computing (HPC) horsepower to desktop workstations.
Nvidia Maximus, Nvidia's next-generation workstation platform, marries the professional quality graphics and visualization capabilities of Nvidia's Quadro GPU family with its Tesla GPU platform, a massively parallel computer architecture tuned to deliver HPC performance. The pairing, which the company is heralding as the "biggest change" in workstation architecture in 20 years, essentially integrates and unifies visualization and computational capabilities into a single platform, putting a supercomputer inside the framework of a traditional desktop workstation, Nvidia officials said.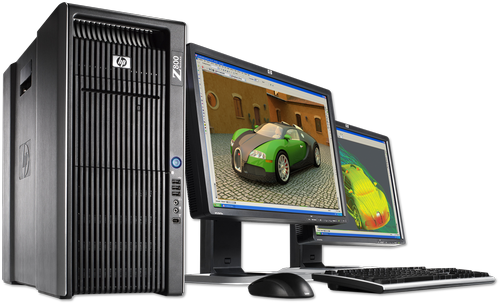 "We are shifting the balance of where the processing happens in a workstation and adding to the amount of horsepower that is available," David Watters, senior director of manufacturing and industry at Nvidia, told us. Traditional workstations, Watters claimed, are out of balance, with CPUs serving as the sole workhorse for handling all of processing required -- from standard multitasking and I/O functionality, which they are good at, to the computational-heavy applications like CAD and CAE, for which they are not optimized.
Maximus changes that balance of power, so instead of having to run computer- and graphics-intensive work serially, and often offline, engineers can now perform both operations simultaneously on the same machine. In this way, a single workstation can simultaneously be rendering the highly-interactive graphics associated with CAD work while also doing the intense number crunching demanded by simulation applications. In addition, the core CPU resources are now freed up to focus on what they do best -- multitasking and I/O -- resulting in what Watters is calling a more balanced workstation.
This kind of set up does have the potential to change how work is done in many engineering organizations. At larger companies with centralized computing resources, engineering groups will queue up simulation jobs and put in a request for a certain number of cores depending on what the job demands. With this traditional approach, there is often a backlog, with engineering groups having to wait days, sometimes longer, before they're able to see the results of their simulation.
There are other problems with a local set up. If an engineer has a workstation that is tricked out enough to handle high-end simulation tasks, the system is pretty much tapped out and offline until the simulation is finished, which leads to teams scheduling jobs during overnight hours as to minimize downtime.
"The idea that you sit at a workstation and interactively design doing CPU-intense operations like extruding or cutting through parts, all at full performance, and while a simulation job hammers away in the background is pretty significant," Watters said.
CAD and CAE applications from Adobe, ANSYS, Autodesk, Bunkspeed, Dassault Systems, and MathWorks will automatically run on Maximus, since they support CUDA, Nvidia's programming language. Hewlett-Packard, Dell, Lenovo, and Fujitsu are among the OEMs offering workstation models featuring Maximus technology.