Composites have been reducing weight and fuel consumption in commercial aircraft for several decades, but manufacturers only lately began incorporating them into a plane's primary structures. The Boeing 787 Dreamliner is the first large commercial transport aircraft with significant use of composite materials in primary structures, specifically wings and fuselage. Although a recent GAO report raised concerns about the repairability and maintainability of those composites, the materials' performance during service has been heavily researched.
More important, although composites in the primary structures of commercial aircraft is relatively new, the practice is ancient history in military aircraft. The big difference is that the scale of use in military and early commercial applications was much lower than what is being considered for commercial aircraft today, Chris Pederson, vice president, aerospace of Cytec Industries' Engineered Materials division, told Design News.
"The adoption of composites in commercial aircraft wings and fuselage, which are primary structures, takes them into different territory with different and sometimes more stringent requirements," said Pederson. "The high rate of manufacturing and the criticality of these structures requires a strong adherence to quality requirements. It also requires a continuous pursuit of process improvement in the manufacture of materials and aircraft structures to both drive down cost and meet the [production] rates required by these new airplanes."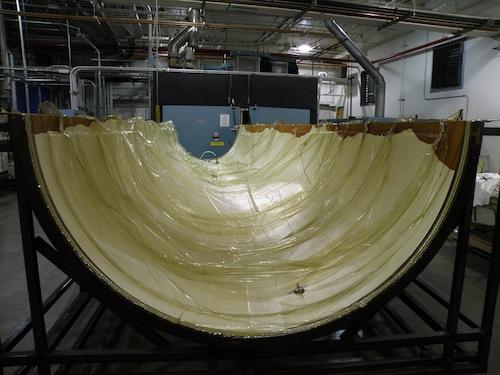 Pederson knows that of which he speaks. Cytec's Engineered Materials division makes a large number of materials used in the 787. The company's carbon fiber prepregs, infusion resins, adhesives, and surfacing materials are used in the composites of the 787's primary wing and fuselage structures. It also supplies prepregs, adhesives, and surfacing materials used in the plane's support structures, such as ribs, flaps, and fairings, as well as in engine and interior applications. Cytec's epoxy, phenolic, bismaleimide, and thermoplastic technologies are used throughout the aircraft.




6
Robots that walk have come a long way from simple barebones walking machines or pairs of legs without an upper body and head. Much of the research these days focuses on making more humanoid robots. But they are not all created equal.

1
The IEEE Computer Society has named the top 10 trends for 2014. You can expect the convergence of cloud computing and mobile devices, advances in health care data and devices, as well as privacy issues in social media to make the headlines. And 3D printing came out of nowhere to make a big splash.

1
Easy home automation comes with a new Kickstarter project, the smart power strip. It controls various AC outlets with a wireless controller and a smartphone app.

0
SUS Corp. offers aluminum frames that are designed for use in factories. The frames are used for workstations, assembly shelving, carts, and other factory and assembly support.

33
Amazon.com's proposed drone-based package delivery scheme is achievable, but it could face significant technical hurdles before reaching the marketplace.


LATEST ARCHIVED BROADCAST
For industrial control applications, or even a simple assembly line, that machine can go almost 24/7 without a break. But what happens when the task is a little more complex? That's where the "smart" machine would come in. The smart machine is one that has some simple (or complex in some cases) processing capability to be able to adapt to changing conditions. Such machines are suited for a host of applications, including automotive, aerospace, defense, medical, computers and electronics, telecommunications, consumer goods, and so on. This discussion will examine what's possible with smart machines, and what tradeoffs need to be made to implement such a solution.



Datasheets.com Parts Search
185 million searchable parts
(please enter a part number or hit search to begin)