Composites have been reducing weight and fuel consumption in commercial aircraft for several decades, but manufacturers only lately began incorporating them into a plane's primary structures. The Boeing 787 Dreamliner is the first large commercial transport aircraft with significant use of composite materials in primary structures, specifically wings and fuselage. Although a recent GAO report raised concerns about the repairability and maintainability of those composites, the materials' performance during service has been heavily researched.
More important, although composites in the primary structures of commercial aircraft is relatively new, the practice is ancient history in military aircraft. The big difference is that the scale of use in military and early commercial applications was much lower than what is being considered for commercial aircraft today, Chris Pederson, vice president, aerospace of Cytec Industries' Engineered Materials division, told Design News.
"The adoption of composites in commercial aircraft wings and fuselage, which are primary structures, takes them into different territory with different and sometimes more stringent requirements," said Pederson. "The high rate of manufacturing and the criticality of these structures requires a strong adherence to quality requirements. It also requires a continuous pursuit of process improvement in the manufacture of materials and aircraft structures to both drive down cost and meet the [production] rates required by these new airplanes."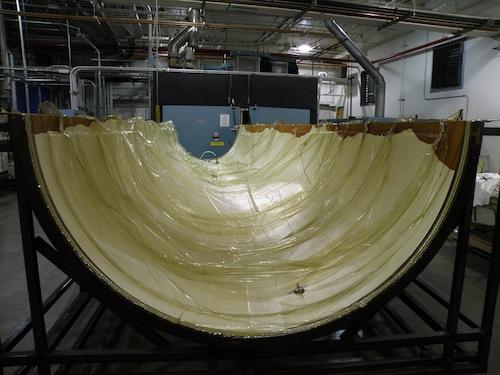 Pederson knows that of which he speaks. Cytec's Engineered Materials division makes a large number of materials used in the 787. The company's carbon fiber prepregs, infusion resins, adhesives, and surfacing materials are used in the composites of the 787's primary wing and fuselage structures. It also supplies prepregs, adhesives, and surfacing materials used in the plane's support structures, such as ribs, flaps, and fairings, as well as in engine and interior applications. Cytec's epoxy, phenolic, bismaleimide, and thermoplastic technologies are used throughout the aircraft.




7
When Dick Neubert discovered that his fireplace's heatilators lost heat when not in use, he created a gadget to rectify the situation.

4
Microsoft will quit supporting – and patching – Windows XP in April. This may be a cruel development for plants.

2
Injection molding can be a powerful tool for both prototyping and production. Here are some tips on how design engineers can get the most out of it.

3
Truchard will be presented the award at the 2014 Golden Mousetrap Awards ceremony during the co-located events Pacific Design & Manufacturing, MD&M West, WestPack, PLASTEC West, Electronics West, ATX West, and AeroCon.

14
In a bid to boost the viability of lithium-based electric car batteries, a team at Lawrence Berkeley National Laboratory has developed a chemistry that could possibly double an EV's driving range while cutting its battery cost in half.


LATEST ARCHIVED BROADCAST
For industrial control applications, or even a simple assembly line, that machine can go almost 24/7 without a break. But what happens when the task is a little more complex? That's where the "smart" machine would come in. The smart machine is one that has some simple (or complex in some cases) processing capability to be able to adapt to changing conditions. Such machines are suited for a host of applications, including automotive, aerospace, defense, medical, computers and electronics, telecommunications, consumer goods, and so on. This discussion will examine what's possible with smart machines, and what tradeoffs need to be made to implement such a solution.



Datasheets.com Parts Search
185 million searchable parts
(please enter a part number or hit search to begin)