New inline Testing Technology
Henkel Corp. recently developed a new system designed to quantitatively and cost-effectively confirm the complete cure of light cure adhesives. A simple and immediate inline process, the
Loctite AssureCure System
, includes a new adhesive technology, a fiber optic light source, a light detector unit, and software that ties into the users' existing PC or PLC.
Located on a very small footprint and easily integrated into existing production lines, the system is positioned directly after the assembly line's existing light cure equipment. Immediately after cure occurs, an optical fiber illuminates the adhesive bond line. A second fiber measures the optical response from the adhesive and sends a signal to the system software.
The AssureCure system's outputs can be configured to provide a go/no-go response, or a quantifiable measurement of the curing process. The entire testing process takes 20 milliseconds per part, and every part is immediately verified.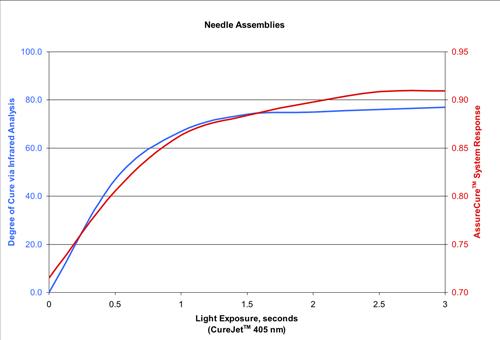 Baseline high and low limits for the end user's application are determined by Henkel's technical service group in advance of implementing the AssureCure process and are produced as correlation curves. Figure 1 shows a correlation curve that compares the adhesive's degree of cure, based on Fourier transform infrared spectroscopy measurement (FTIR) to AssureCure system output. This graphic shows an excellent correlation between the baseline FTIR analysis and the AssureCure system response.
Figure 2 shows a correlation curve of needle pull strength versus the AssureCure output over various time intervals of light exposure. As pull strength increases, the AssureCure output also increases, showing excellent correlation. The system shows that the adhesive has cured fully and reached the desired strength for the application.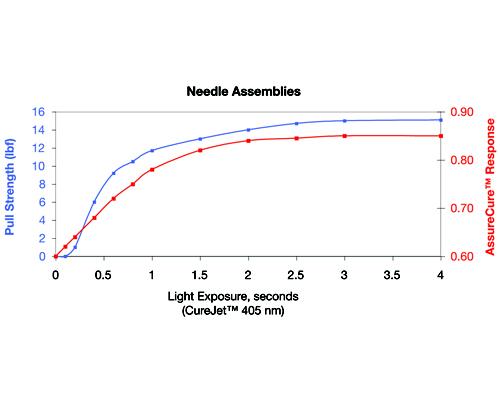 Anne Forcum is application engineer and John LaFond is technology manager at Henkel.