Harmonic has also made efforts to work with its suppliers to facilitate compliance. Initially, getting compliance data from suppliers was done well after the company had taken delivery of the parts.
Today, Harmonic includes compliance data requirements on all purchase orders, so suppliers are clear what kind of information is expected from the beginning. "We try to work with our suppliers, because suppliers are complaining it's difficult to come up with this data," Farkas says.
Instead of having engineers responsible for chasing down the data, Harmonic has appointed a specific environmental compliance engineer to spearhead the effort.
The investments are paying off, enabling Harmonic to stay on top of changing requirements and proving to its customer base that it takes environmental compliance seriously. "The system has helped us convince customers and potential new customers that we are serious as far as due diligence is concerned around meeting environmental regulations," Farkas says. "We have been able to gain business because of the system."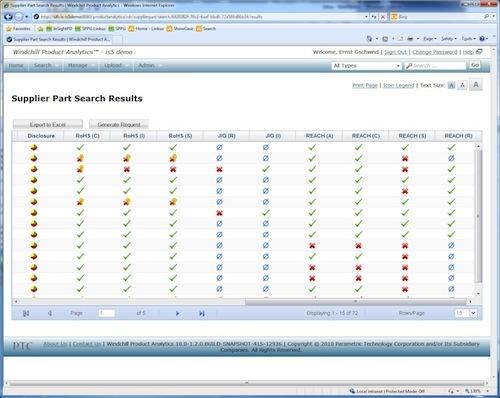 Like Harmonic, Agilent found the process side to environmental compliance equally as challenging as the technology piece (if not more), according to Frank Elsesser, director of environmental compliance and electronic measurement for the manufacturer of test and measurement systems. Agilent put a lot of energy into shifting the engineering culture to understand what goes into products from the standpoint of the entire value chain, not just from a subassembly perspective.
"Raising awareness in the organization about monitoring the materials that go into our products, as well as centralizing the way in which design engineers choose components and assemblies, was not an easy task for a distributed organization like Agilent," Elsesser says.
The first step was to make design for compliance a fundamental step in Agilent's overall product lifecycle model. The firm accomplished this by creating governance processes, including a checklist that provides a roadmap for engineers, as well as formalized management review and approval procedures. Leveraging its supplier management and procurement teams, Agilent revisited how it worked with suppliers on environmental compliance -- the goal being to centralize requests and make it easier to comply. "Many suppliers don't understand regulatory compliance, and that either leads to a nonresponse or a response that's inadequate," he explains. "We are trying to provide as much education as we can up front."
Accompanying the new processes is an automated enterprise compliance system based on ENOVIA MCC, which centrally manages materials data on more than 160,000 parts used across Agilent products. ENOVIA MCC compares the materials data with relevant environmental regulations, helping Agilent engineers determine if substance thresholds have been exceeded in individual parts, assemblies, or even entire products.
Thanks to the ENOVIA deployment and the organizational changes put in place about five years ago, Agilent is meeting RoHS requirements ahead of schedule. "Our investment paid off, because by the end of this year, we'll have a full suite of RoHS-compliant products, and the deadline for our products is 2017," Elsesser says. "We're really trying to come to market at least two years before any regulation is enforced for us. But we had to make sure we were there from a technology standpoint and a supplier standpoint."