Historically, the mechanical components of the fan drive system, specifically the right-angle gearbox, have been the largest maintenance issue for cooling tower installations. Gearbox failures, oil leaks, oil contamination, failed drive shafts, misaligned drive shafts, and excessive vibration are all significant problems related to this type of fan drive system.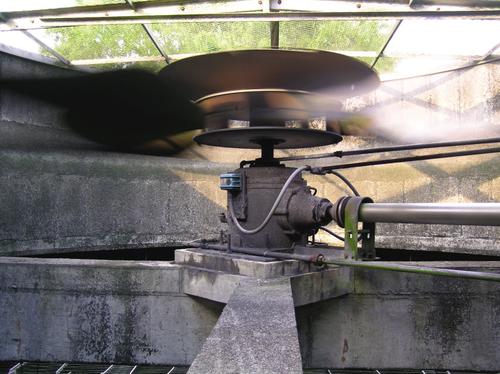 The Baldor Reliance Direct Drive Cooling Tower Permanent Magnet (CTPM) technology's features and benefits have been embraced by the industry. These include the following:
Reduces energy use
Reduces overall tower stress through the soft start capability
Removes alignment issues
Removes mechanical rotating equipment
Increases reliability
Decreases noise levels
Decreases yearly maintenance
Decreases vibration levels
Decreases ingress of contamination due to trickle current during idle periods
Incorporates anti-windmilling option during idle periods
Increases safety by enclosing all rotating equipment inside the tower.
Many of the problems associated with cooling tower maintenance and reliability are solved with the CTPM motor design. The relatively high speed gear input shaft, which typically runs at 1750rpm, has been eliminated. The CTPM direct drive motor runs at the typically slower fan operating speed, in the range of 147rpm to 382rpm.
Vibration and noise concerns have been minimized. The driveshaft and associated disc couplings have been removed, thus eliminating problems associated with misalignment, natural frequencies, or driveshaft delaminating. The right-angle spiral-beveled gearbox has been removed. Difficult maintenance problems associated with changing the oil, proper oil fill levels, contamination of the oil, oil leaks, and gearbox failures are no longer a concern.
New motor technology has led to an alternative solution, the direct drive of cooling tower fans. PM motor technology, combined with the finned, laminated frame design, now allows the construction of a low speed, compact motor for use in place of the existing gearbox. Data obtained to date indicates this solution will eliminate problems associated with the right-angle gearbox and drive shaft design. By eliminating the gearbox, which is a significant source of loss in the system, improved system efficiencies can be realized.
Roman Wajda is engineering and business manager for the air handling industry for Baldor.