I've been thinking a lot about the "Digital Factory of the Future," the term Siemens has been using to telegraph the increasingly hurried-up product to production cycles that design engineers need to support via flexible automation setups.
PLCs and PACs with higher capabilities for programmability and intercommunications are the cornerstones of factory automation. The other linchpin is easier and more global programming capabilities.
In plainer English, this means two things. First and foremost is enabling engineers to sidestep command-line programming -- something most aren't fluent in -- and instead use some kind of graphical or drag-and-drop paradigm. (Secondarily, despite the fact that hardcore software types will always frown on what they see as a "for dummies" approach, the salient point is that today's visual tools are finally for real.)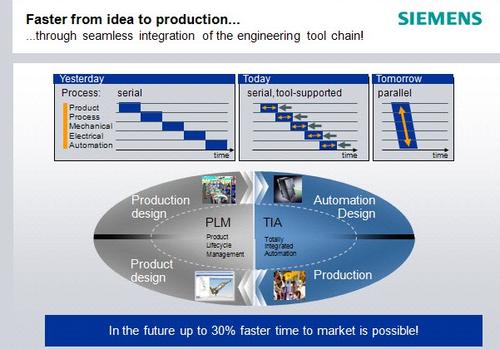 The other underpinning of the digital factory is the ability to deploy that software globally to all PLCs/PACs within a factory, extending out to remote or wirelessly connected production operations. Here, a collateral but significant outgrowth of such tight interconnectedness is the ability it gives plant engineers to route sensor data back to a centralized location. From there, they can monitor operations more closely -- and quantitatively -- than ever before. This enables tighter control, minimization of failures -- or, more correctly, quicker fixes -- and a host of subsidiary benefits like better compliance. (It should be noted that sensor angle is perhaps even more of a benefit in the process automation arena.)




1
Contributing editor Cabe Atwell developed a Raspberry Pi and Arduino-based remote network fish tank control for his goldfish, Goldie Fishwater.

4
Are they robots or androids? We're not exactly sure. Each talking, gesturing Geminoid looks exactly like a real individual, starting with their creator, professor Hiroshi Ishiguro of Osaka University in Japan.

1
Hybrid vehicle engineers may now have a way to do hardware-in-the-loop simulation testing, instead of physical dynamometer testing, on the electric motors that propel their cars.

8
NASA is developing Project Morpheus, a vehicle that can lift off and set itself down on planetary surfaces.

19
Nissan Motor Co. is taking the electric vehicle into new territory, rolling out an exotic-looking three-seat concept car that combines sustainability with race car-like performance.


LATEST ARCHIVED BROADCAST
For industrial control applications, or even a simple assembly line, that machine can go almost 24/7 without a break. But what happens when the task is a little more complex? That's where the "smart" machine would come in. The smart machine is one that has some simple (or complex in some cases) processing capability to be able to adapt to changing conditions. Such machines are suited for a host of applications, including automotive, aerospace, defense, medical, computers and electronics, telecommunications, consumer goods, and so on. This discussion will examine what's possible with smart machines, and what tradeoffs need to be made to implement such a solution.



Datasheets.com Parts Search
185 million searchable parts
(please enter a part number or hit search to begin)