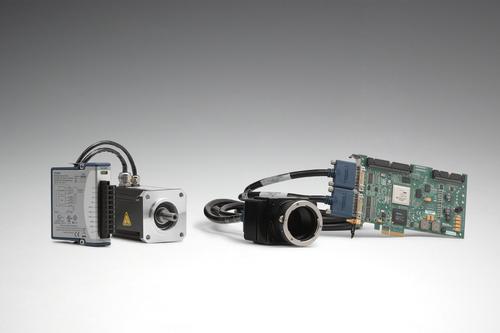 National Instruments (NI) has introduced two additions to its reconfigurable I/O (RIO) technology –- a reconfigurable Camera Link frame grabber and a motion module for the NI CompactRIO platform.
The background: The NI PCIe-1473R frame grabber is a PC-based embedded vision board that combines field-programmable gate array (FPGA) technology with a Camera Link interface to help engineers create high-performance embedded imaging and inspection applications.
The NI 9502 brushless servo drive C Series module makes it possible for engineers to drive brushless servo motors, including six new custom NI motor options, directly from the reconfigurable CompactRIO system to address advanced motion control challenges.
What: The Camera Link frame grabber was designed for advanced inspection applications that require image preprocessing and high-speed control, such as medical imaging, Web and surface inspection, and high-speed sorting. According to NI, engineers and scientists can program the new frame grabber's onboard FPGA with the NI LabVIEW FPGA Module for custom image processing and analysis in real-time with little or no CPU intervention.
The 9502 motion drive module for CompactRIO is designed to allow engineers to power brushless, stepper, or brushed servo motors directly with NI C Series modules to provide a compact, highly customizable solution for integrating motion into advanced control, monitoring, and test systems. The 9502 offers 4A continuous/8A peak current and multiple communication modes. To complement to module, NI is also releasing six three-phase brushless motors that are specifically designed for maximum performance and direct connectivity with the 9502.
Price/availability: The NI PCIe-1473R Camera Link frame grabber is available starting at $2,999. Learn more about the Camera Link frame grabber here.
The NI 9502 brushless servo drive module is available starting at $550. Learn more about the servo drive module here.
The NI brushless DC motors are available starting at $620. Learn more about brushless DC motors here.