Solid state lighting controls
In lighting, control ultimately results in some level of dimmability. There can be control at the local level, at the light fixture, and at the building level. The control can be based on occupancy, existing light level, safety, comfort, and many other factors. LEDs work extremely well with these types of controls and enable improved functionality well beyond improved energy efficiency.
Building controls at the light level, including FMS and an increasing number of wireless control options, are among the control techniques being applied to SSL. Fortunately, SSL lends itself ideally to these communication techniques and may be used to establish a new wireless communication technique similar to infrared technology commonly used for remote controls.
Interconnects in the SSL system
For the most part, the interconnects (cables and connectors) have been a critical but unaddressed challenge for SSL systems. The wiring and connectors have a significant impact on the cost, manufacturability, operation, and overall reliability of the system. Early SSL versions used solder connections, but they cause several problems, including limited design flexibility for future upgrades. Interconnects have system design implications and complexity well beyond the traditional lamp holder and lighting socket.
In 2009, the National Electrical Manufacturers Association published "Solid State Lighting -- The Need for a New Generation of Sockets and Interconnects." A standardized approach to connectors and wiring not only provides a cost-effective solution, but it can also prevent assembly problems from inadequately mated connectors. And it can readily identify or avoid mistakes through color coding and keyed design features.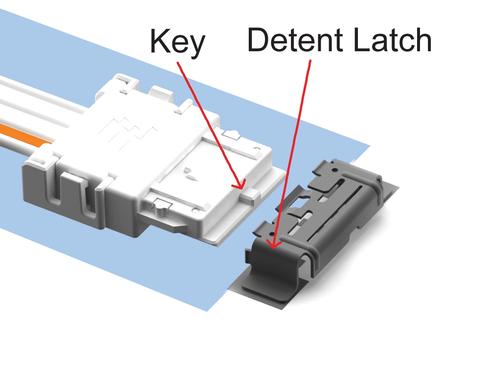 A properly made interconnect system allows the LED light module (LLM) to be easily installed, exchanged, upgraded, and replaced if necessary.
SSL protection
Typically, an LED driver module includes some level of protective circuitry to handle common faults that can occur in electronic systems, such as short circuits, overvoltage, reverse polarity in DC circuits, and overtemperature. In addition to standard electronic circuit protection, SSL can be exposed to extreme surge conditions, including lightning. Any power line coupled transients can reduce LED lifetimes and, in the worst case, result in immediate failure.
Adequate thermal protection for temperature-sensitive LEDs requires localized temperature measurements to provide a sufficiently quick response to limit excessive temperature and shut down, if necessary, to avoid stressing LEDs or contributing to early life failure. In systems with several LED subassemblies, each LED subassembly must be accounted for as a single point of potential failure if its localized temperature exceeds the maximum safe operating level. As a result, temperature detection at a centralized location is insufficient to protect an overheating LED module.