4. Tilting the sensor at a slight angle is best to sense shiny objects. Especially when sensing a highly reflective material such as glossy packaging or a Mylar web, it is best to position the BGS sensor so its optical axis is ~5 degrees off perpendicular to the detection plane. In scenario (a) of the image below, a very reflective object can result in glaring or blinding, in which the reflected light beam floods the receiver and covers both receiver elements. But mounting the sensor with the slight angle shown in (b) reduces the glaring reflection considerably, so the object can be detected.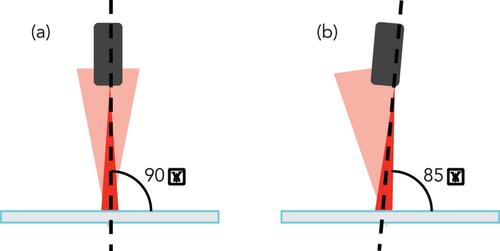 5. Adjust or mount a BGS sensor from the background, not the object. After a BGS sensor has been selected and is installed in the application, it may be necessary to adjust its sensitivity so that the object to be sensed is in the detection field and the background is beyond the maximum sensing distance. This is normally accomplished using a potentiometer on the sensor housing. Turning it clockwise effectively increases the distance from the sensor where it detects objects, while turning it counterclockwise decreases this distance.
A common mistake is to place an object to be detected in front of the sensor and adjust the sensitivity just to the point where that object is sensed. But because there is a slight difference in sensing distances based on color (as was shown in the figure on page 1), it is possible that a darker object could not be detected.
Instead, it is best to adjust the sensitivity to the background, rather than to the object. This allows the greatest range of object colors to be repeatedly detected. That means turning the potentiometer until the background is sensed, then turning it slightly in the opposite direction until the background is not sensed. For tamperproof models with no adjustment, the potentiometer is replaced by physically positioning the sensor relative to the object.
6. Movement direction can be a factor in how BGS detects. Although a less common occurrence, the direction an object travels through the sensing field of a BGS sensor can determine if it is detected. Three simultaneous conditions could result in a brief moment where the object is not sensed. In this scenario, the object must move in the plane directly at the sensing threshold, have a high-contrast pattern (such as black-white), and move parallel to the emitter-to-receiver axis. With these conditions, a BGS sensor may not detect the object. This is because the sensor's light spot straddles the high contrast such that the dark portion reflects less to the near element receiver compared to what the light portion reflects to the far element receiver. Turning the sensor or object by 90 degrees or moving the object closer to the sensor remedies this situation (called the Pepita effect).