What do light bulbs, acne treatments, and tire pressure gauges have in common? The answer is that they're now using microcontrollers (MCUs).
The Embedded Systems Conference (ESC) in Boston displayed an array of low-cost microcontrollers that are changing the face of such applications by doing the seemingly impossible: performing them more effectively and for less cost than they could have been done previously.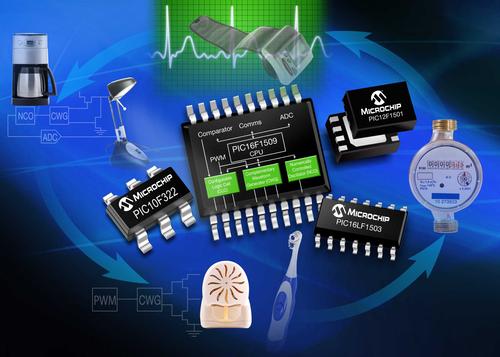 "Using microcontrollers, you can cut the cost, cut the power and do a lot of these applications in a more elegant fashion," said Fanie Duvenhage, director of product marketing applications for Microchip Technology.
Microchip and other suppliers made their case for the benefits of such low-cost microcontrollers by demonstrating a host of new applications at ESC. Microchip, for example, unveiled a new family of PIC10F and PIC16F products that cost as little as $0.35 and measure a scant 2mm on a side. The company's engineers said the new devices are already being used in a medical application called iontophoresis -- a technique in which a small electrical charge is delivered to the skin to help topical drugs get absorbed more effectively. Similarly, Microchip said that a maker of an acne treatment is using the same MCU to control a "treatment tip" that applies heat and vibration to blemishes.
While unusual, such applications may only be the tip of the low-cost-MCU iceberg. Engineers at ST Microelectronics, Inc., for example, said that they are now selling eight-bit MCUs into a host of applications that never used them before. Tire pressure gauges and mechanical counters, for example, are suddenly going digital. By employing ST Micro's STM8L microcontroller in such applications, OEMs can cut their entire bill of material costs down to as low as a couple of dollars, the company said.
"It's a matter of consumer preference," noted Firat Serefoglu, a product marketing engineer for ST Microelectronics. "People want electronic displays. It's all about the graphical interface."
The phenomenon of first-time use isn't limited to eight-bit devices, however. ST Micro said that its 32-bit STM32F101 device has been employed in applications that were previously mechanical. NXP Semiconductors also said that its JN5148 MCUs are being employed in light-emitting diodes (LEDs) that previously used analog-to-digital converters, but not microcontrollers.
"Now there's a wireless MCU in there, and you can network the LEDs together," said Paul Wilson, regional marketing director for NXP. "You can dim the LEDs, change their color, or get feedback from them."
Similarly, Texas Instruments said it is now employing its 16-bit
MSP430
in street lamps and electro-mechanical utility meters to send IPv6 packets across low-power wireless networks.
Suppliers at the show said there's a certain amount of irony connected with the current success of low-cost MCUs. Ten years ago, they said, experts predicted that the low-end, eight-bit devices were doomed to disappear in a few years. Yet ST Micro said that it can now offer an eight-bit MCU with 8K of flash, 1K of RAM, and 128 bytes of EEPROM for just 25 cents.
And such devices are said to be thriving. "Eight-bit isn't going away," Serefoglu said. "You can get an eight-bit device in a low-power flavor, or a five-volt flavor, or a touch-sense-capable flavor. Last year, we sold 140 million eight-bit solutions."