Design Hardware & Software
In the 2000s, CAD was in a rut. Sure, there were regular updates with lots of new power features, but the advances did little to attract or inspire new users beyond the traditional base of CAD jockeys. Other emerging design platforms like Product Lifecycle Management (PLM) and new Computer-Aided Engineering (CAE) tools grabbed the spotlight.
As CAD vendors looked to expand their product portfolios, they talked up the major impact that PLM's promise could have on product development. They actively promoted how analysis-led design could radically improve product quality, reduce costs, and escalate time-to-market. Yet when it came to their bread-and-butter CAD offerings, their relative silence was almost deafening.
Lately, though, CAD has made a resurgence. Thanks to an array of new 3D modeling advances and, in some cases, a complete rethinking of how CAD functionality is delivered, we're starting to see an exciting generation of new platforms. These incorporate functionality for both the power user and for those involved in product development who've long remained on the CAD sidelines.
Click the image below to see our slideshow of the recent innovations that are breathing new life into CAD:
Built-in finite element analysis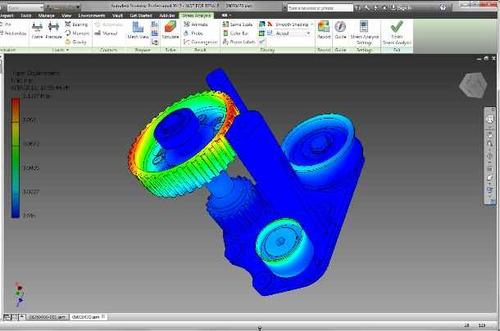 Stress analysis capabilities within Autodesk Inventor allow users to predict how a design will work under real-world conditions before building it. Mini Toolbars bring context-sensitive options directly into the modeling interface, and they will adapt to both the current operation and the current selection.




2
Nissan Motor Co. is taking the electric vehicle into new territory, rolling out an exotic-looking three-seat concept car that combines sustainability with race car-like performance.

1
3D visualization is helping us express information in a way that's more informative and easier to decipher.

0
A new service lets engineers and orthopedic surgeons design and 3D print highly accurate, patient-specific, orthopedic medical implants made of metal -- without owning a 3D printer. Using free, downloadable software, users can import ASCII and binary .STL files, design the implant, and send an encrypted design file to a third-party manufacturer.

2
Google is developing robots for manufacturing, assembly, and warehouse tasks.

8
When Dick Neubert discovered that his fireplace's heatilators lost heat when not in use, he created a gadget to rectify the situation.


LATEST ARCHIVED BROADCAST
For industrial control applications, or even a simple assembly line, that machine can go almost 24/7 without a break. But what happens when the task is a little more complex? That's where the "smart" machine would come in. The smart machine is one that has some simple (or complex in some cases) processing capability to be able to adapt to changing conditions. Such machines are suited for a host of applications, including automotive, aerospace, defense, medical, computers and electronics, telecommunications, consumer goods, and so on. This discussion will examine what's possible with smart machines, and what tradeoffs need to be made to implement such a solution.



Datasheets.com Parts Search
185 million searchable parts
(please enter a part number or hit search to begin)