In the 2000s, CAD was in a rut. Sure, there were regular updates with lots of new power features, but the advances did little to attract or inspire new users beyond the traditional base of CAD jockeys. Other emerging design platforms like Product Lifecycle Management (PLM) and new Computer-Aided Engineering (CAE) tools grabbed the spotlight.
As CAD vendors looked to expand their product portfolios, they talked up the major impact that PLM's promise could have on product development. They actively promoted how analysis-led design could radically improve product quality, reduce costs, and escalate time-to-market. Yet when it came to their bread-and-butter CAD offerings, their relative silence was almost deafening.
Lately, though, CAD has made a resurgence. Thanks to an array of new 3D modeling advances and, in some cases, a complete rethinking of how CAD functionality is delivered, we're starting to see an exciting generation of new platforms. These incorporate functionality for both the power user and for those involved in product development who've long remained on the CAD sidelines.
Click the image below to see our slideshow of the recent innovations that are breathing new life into CAD:
Built-in finite element analysis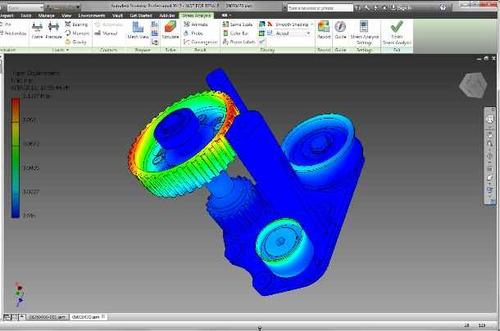 Stress analysis capabilities within Autodesk Inventor allow users to predict how a design will work under real-world conditions before building it. Mini Toolbars bring context-sensitive options directly into the modeling interface, and they will adapt to both the current operation and the current selection.