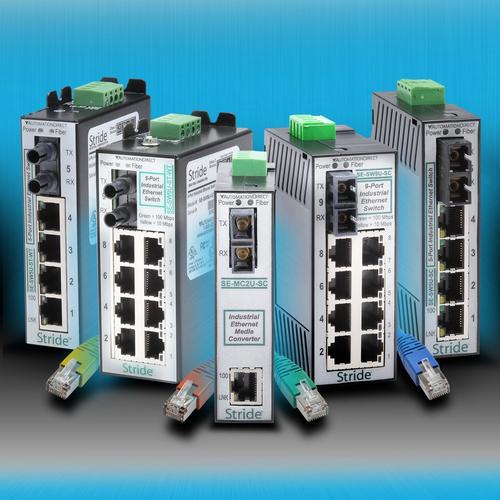 Automation Direct has released a line of Stride ethernet industrial-grade unmanaged switches and media converters. All models feature multiple 10/100BaseT RJ45 ethernet ports, and several include an ST (straight tip) type fiber optic connection.
The background: Automation Direct recently added units with an SC (subscriber connector) fiber optic connector. Plastic case models are designed for a standard temperature range (-10 to 60 degrees Centigrade), but aluminum case models are designed for a wider temperature range of -40 to 85 degrees Centigrade.
These DIN (Deutsches Institut für Normung) rail-mountable true plug-and-play devices automatically determine and remember devices connected to each port. They route messages only through the appropriate ports. This is intended to increase speed and bandwidth.
What: The SC is a push/pull type fiber optic connector. The ST is a slotted style bayonet type fiber optic connector. The switch is designed with PLC (programmable logic controller), HMI (human/machine interface), and drive users in mind.
The switches were ruggedly designed specifically for the demands of industrial environments. They were also created for controlling switching on isolated control LAN (local area network), so users can reduce the number of collisions that slow down a network.
Price/availability: The Stride ethernet switches and media converters are available starting at $99. Learn more here.