Our teardown of the HP TouchPad was in the works before Hewlett-Packard's recent decision to exit the tablet business. We bring it to you because it illustrates advanced packaging and assembly technologies of interest to the Design News audience.
The TouchPad is actually HP's second stab at a tablet. It had previously dipped its toe in the tablet waters with its HP Slate. The slate ran Windows 7, had an 8.9-inch screen, and was powered by an Intel Atom processor. However, it met with a lukewarm response. Not ready then to give up on the market, HP went back to the drawing board.
Click the image below to view a slideshow of the HP TouchPad in various stages of disassembly: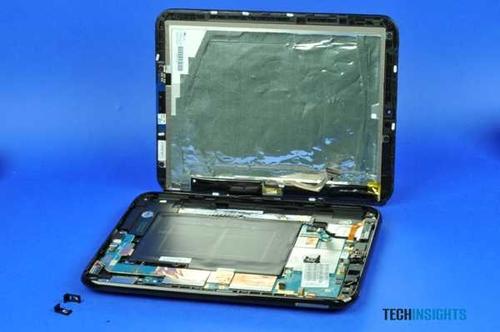 Opening the HP TouchPad enclosure reveals the display on top and the main board and battery on the bottom.
The result was the HP TouchPad. It has a 9.7-inch screen (identical in size to the iPad) and a dual-core processor manufactured by Qualcomm. The TouchPad is also the first tablet from HP to use the proprietary webOS 3.0 operating system initially developed by Palm. Many reviewers have commented how the clean interface of webOS is reminiscent of Apple's iOS.
Deconstructing the TouchPad in our teardown revealed a rather tightly packed device, starting with the display and touchscreen being connected to the glass of the tablet. Samsung provides the LCD display module.
The rear cover of the TouchPad reveals the bulk of the electronic components as well as the resting place of the speakers, headphone jack, connectors, the SD card assembly, the WiFi antennae, and the battery pack, which is a 3.7 volt lithium polymer battery.
A closer look inside the TouchPad reveals three circuit boards. The main board houses the primary components of the TouchPad, namely the processor and tablet memory. Two smaller boards exist to control the I/O of the tablet and the touchscreen.
The primary design winners in the TouchPad include Qualcomm with its APQ8060 processor and power management ICs scoring spots on the main board. The HP TouchPad marks the first time we've seen Qualcomm's tablet-ready dual-core processor in a tablet. (Most companies have previously used offerings from Samsung, NVidia, or Texas Instruments.) This 1.2GHz device is a third-generation Snapdragon processor. It features Qualcomm's Adreno 220 GPU core.
Qualcomm also gets the benefits of its recent Atheros acquisition; an Atheros AR6003X provides the TouchPad's wireless connectivity. Texas Instruments is also a big design winner, providing many of the power management and MOSFET ICs inside the tablet.
Finally, Invensense gets another major design win for its MPU-3050 digital gyroscope, matching the win it received in the RIM Playbook.
For further reading