"The fan module of all aero engines requires a larger bearing that runs at a higher speed and with higher loads," says Callan. The tapered roller bearing solution helps the engine achieve a lower weight and simpler installation, compared to ball and cylindrical bearing alternatives.
This development started years ago from an engineering perspective with the question: why are there no tapered roller bearings on main shaft engines?
"The tapered roller bearing has a particular contact within the bearing where two surfaces are sliding together, and there has always been hesitation to put that into a higher-speed application," says Cooke. "So for decades, that prevented people from even considering a tapered roller bearing for this type of application."
However, Pratt & Whitney and Timken jointly decided that tapered roller bearings could contribute to a good, lower weight solution for an engine. That led to the testing program, driven by engineers who could see potential in the design. Cooke says one of the conclusions from the early test programs with the sliding contact were concerns if the approach could provide the life required by a commercial jet engine, which is many tens of thousands of hours of service. Timken's ultimate solution for both oil-off operation and longevity of the surfaces was to use new wear-resistant coatings on the roller ends introduced in 2010.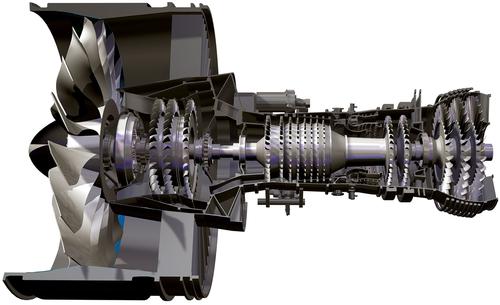 The wear-resistant coatings are the result of a major coating program breakthrough at Timken, and this is the first time those coatings have been applied to a main shaft engine bearing. The new bearings provide the performance on the roller ends, which provides both long life and actual protection if there is a low oil condition.
"The wear-resistant coatings are a key enabling technology that makes the tapered roller bearings a great solution," says Cooke.
With an aircraft engine, every piece counts. The bearing design is one of the many pieces that helps keep everything moving, spinning properly, and maintaining the fine balance that allows for optimal engine performance and efficiency.
"When you do the calculations and analyze the mechanical loading of the system, the tapered roller bearing becomes a piece of the overall system and how the loads carry through the design, along with the dynamics of the system," says Cooke. "In this application, it helps the design to have a shorter shaft in some of the larger engine sizes in the family, which reduces engine weight."
A tremendous amount of modeling has been done on the system. This includes the entire dynamics of the engine system down to the modeling of the bearing and the bearing compartment, which represents the direct link between engineers at Pratt & Whitney and Timken.
Key projects that have been announced so far that will use the PurePower engine include the Bombardier CSeries, which expects to reduce noise footprints by 75 percent and use 20 percent less fuel; the Mitsubishi Regional Jet (MRJ); the Airbus A320neo; and the Irkut MC-21 aircraft.