The potential to use additive manufacturing processes to custom manufacture jigs and fixtures for electronics manufacturing is getting a big boost with the announcement that Stratasys is now supplying a static-dissipative ABS.
Background: Additive manufacturing processes debuted in 1986 with the development of expensive stereolithography systems to make prototypes quickly and precisely from digital files. The technology has broadened tremendously in recent years with cheap 3D printing on one end and low-volume production systems on the other.
One of the interesting developments with the Fused Deposition Modeling approach developed by Stratasys of Eden Prairie, Minn., has been the use of additive manufacturing systems called Fortus to produce assembly aids such as jigs and fixtures. One of the early adapters is Oreck, the maker of vacuum cleaners and related floor care products. Oreck has used FDM machines to make more than 300 manufacturing aids, including pallets with fixturing features, nine types of hand tools, and assembly guides.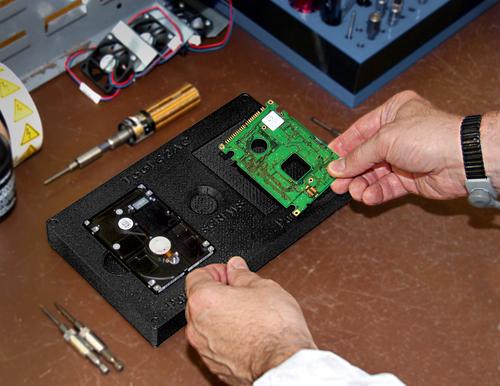 What's new: ABS-ESD7 is a new material for use by Fortus additive manufacturing systems. The material has static dissipative properties for applications where a static charge can damage products, impair performance, or cause an explosion. Unlike most thermoplastics, ABS-ESD7 prevents a buildup of static electricity, so it can't produce a static shock. The material also eliminates another common static electricity problem: the attraction and buildup of particulate, such as dust or powders, which can degrade product performance. Stratasys says that ABS-ESD7 is also beneficial when designing products such as medicine inhalers, which must deliver an entire drug dose to the patient and not leave mist clinging to the inhaler's internal surfaces.
Target applications: The key beneficiaries of the new technology are manufacturers that need assembly aids that hold, handle, or carry electronics safely. Specific applications include carriers and organizers for electrical components, fixtures for electronic component assembly, and production line and conveyor parts. Other potential applications include design and validation for electronic product enclosures, electronics packaging material, and powder or mist conveying or dispensing. "ABS-ESD7 was engineered in response to a strong demand from our additive manufacturing system owners," says Stratasys Business Development Director Fred Fischer. "In a survey, over 50 percent of owners expressed a need for ESD materials for creating assembly aids, prototypes, or production parts."
Properties' skinny: All mechanical properties of ABS-ESD7 are within five percent of the ratings for ABS-M30, a material already available for Fortus systems. Detailed specs are available at the company's Website.
Availability/pricing: Orders are being taken now for ABS-ESD7, and material canisters will begin shipping in September. ABS-ESD7 is available immediately for contract manufacturing jobs through Stratasys's RedEye On Demand digital manufacturing service. The service can offer either a single prototype or production runs of up to 1000 parts or more. Small jobs can be shipped in 1 to 5 days. US price is $395 per canister (or $4.29 per cubic inch). For sales to other countries, shipping, tariffs, and other costs of doing business vary.