A new breed of flexible, high-energy lithium batteries is changing the shape of next-generation products.
Portable electronic devices, ranging from notebook computers to handheld medical instruments to power tools, are benefiting from steady advancements in energy density, as well as from the rise of thin-format laminate cells. For design engineers, the bottom line is that compact products with longer charge times are more achievable than ever.
"The battery industry is really booming right now," Robin Tichy, marketing manager for Micro Power Electronics, a technology integrator that specializes in the creation of custom battery packs, said in an interview with Design News. "There's a ton of research going on. If you have thin electronic applications, then lithium polymer is getting more interesting. But right now, there are a million different directions you could go in."
Indeed, makers of consumer products are doing just that. Apple Inc. has notably used laminate-style lithium polymer batteries to great advantage in the iPod and iPad, as well as in the paper-thin MacBook Air.

General Motors and Nissan are employing similar laminate-style technologies in the Volt and Leaf, while Tesla Motors is using 6,800 cylindrical lithium-ion batteries in its highly publicized Roadster. At the same time, lithium is finding a big niche in the medical industry, where cart-based instruments are giving way to handheld monitors.
One of the keys to the recent rise of lithium-ion cells is the ongoing increase in capacity. Not long ago, 2.2Amp-hour cobalt-based lithium batteries were all the rage, but in the past five years, they were replaced by lithium cells that used nickel-manganese, and then nickel-aluminum. During this march of progress, battery capacities rose to 2.6A-hr. and then 2.9A-hr.
In June, Panasonic rolled out the NCR18650A, a lithium-ion cell that again stretches battery capacity, this time to 3.1A-hr. Later this year, a few battery makers plan to move to 3.4A-hr. And 4.0A-hr. batteries in the well known 18650 form factor (cylindrical batteries slightly larger than an AA) could be out as soon as 2013, they say.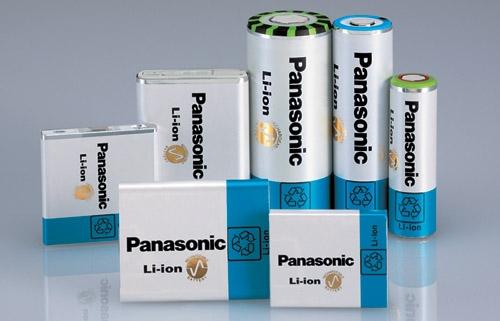 "We've tripled the energy in the same size can from 1996 to today," Dennis Malec, senior applications engineer for Panasonic, told us. "And the next-generation 4.0A-hr. battery isn't very far off."
Cylindrical cells push the envelope
Engineers say the higher-energy breed of batteries is opening new applications in countless industries, but particularly in medical. There, customers are incorporating them in portable ultrasound, portable oxygen concentrators, and portable workstations for monitoring patients. At the same time, a more traditional set of customers is still using lithium-ion as a replacement for nickel-metal hydride batteries in notebook computers, cellphones, digital cameras, and even power tools.
"It doesn't so much open up new applications as it allows the old applications to run longer," Malec says. "Take notebook computers: It allows the manufacturers to offer a broad range of options. For the low-end customer who mainly uses the notebook on a docking station, there's a cost-effective 2.2A-hr. cell. Or they can switch to a 3.1A-hr. battery and push the computing time into the six-to-eight-hour window."
For those reasons, lithium-ion has virtually taken over the mobile computing space. Since 1996, when nickel-metal hydride and lithium-ion were virtually neck and neck, a gap has slowly formed. Today, lithium-ion's energy density far surpasses that of nickel metal hydride.
"In cellphones and notebooks, lithium-ion batteries are almost the only ones being used now," Yevgen Barsukov, IP development manager for battery management systems at Texas Instruments, tells Design News. "Pretty much everything else has been eliminated at this point."