Mitsubishi Motors' forthcoming electric vehicle might incorporate an AC power adapter that will allow owners to plug in electrical devices ranging from rice cookers to microwave ovens. Currently in the trial stage, the AC adapter is seen as a potential solution to the electrical power problems facing Japan in the wake of the earthquake and tsunami there in March.
"If there's a remote location that's having trouble getting electricity, the people there can feed themselves using the power from their EVs," Maurice Durand, a spokesman for Mitsubishi Motors North America, told me. "It allows them to not have to tap into the grid to run an accessory to cook their rice."
The AC adapter is being tried on the Mitsubishi i-MiEV in Japan (known as the Mitsubishi i in the US). Durand says the i-MiEV's 330V electrical architecture is ideal for such applications. Unlike many conventional gasoline-burning vehicles, which use 12V electrical architectures, the i-MiEV employs the high voltage needed for accessory applications.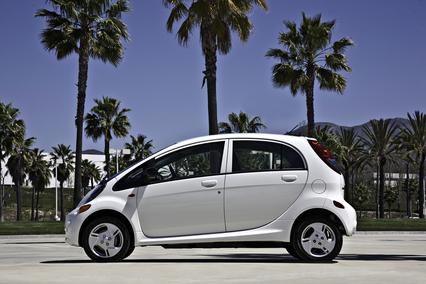 "It's considerably easier to do this on an EV," Durand says. "This vehicle has a 330V battery, and a management system that's designed for that voltage."
Durand says the AC accessory could be particularly important in Japan. Much of that country is now employing a staggered work week as a means of smoothing out the damaged grid's peak loads.
Although the i-MiEV's lithium-ion battery requires charging, it offers the advantage of being able to store power for brownouts, and for users who aren't within easy reach of the grid.
To be sure, many gasoline-burning vehicles incorporate onboard 110V AC power connectors, which enable users to plug in refrigerators and other appliances when power gets knocked out. Such vehicles, however, use higher voltage electrical architectures, which is why hybrids and electric cars are better suited for AC accessories.
The Toyota Prius, Lexus hybrid SUV, and Ford Escape hybrid, for example, have all employed electrical architectures of 300V, 400V, 500V, and even 600V. Those electrical architectures enable design engineers to easily add an AC power connection, which allows contractors to run power tools and outdoorsmen to plug in heaters.
Mitsubishi's all-electric i-MiEV incorporates a 16kWh battery that's capable of providing 62 miles of range, according to the Environmental Protection Agency's "real-world" driving evaluation. The vehicle, weighing between 2,300lb and 2,500lb, is also rated at 112MPGe (miles per gallon equivalent) in combined city and highway driving. In contrast, the all-electric Nissan Leaf offers a range of 73 miles and an efficiency of 99MPGe.
Durand says it's not yet known whether the company's Mitsubishi i will incorporate the AC accessory when it reaches the US market in November. "It's not just a matter of this accessory making the EV more appealing. Right now, there are energy issues in Japan."