The National Highway Traffic Safety Administration (NHTSA) plans to propose regulations that would call on manufacturers of electric cars and hybrids to add special sounds to their vehicles to make them safer for pedestrians.
The proposal follows numerous studies, done by NHTSA and other organizations, showing that hybrids and electric cars are more likely to strike pedestrians, especially those who are blind and rely on sound to alert them to the presence of vehicles.
"America's streets must be safe for everyone who uses them," US Transportation Secretary Ray LaHood said in a prepared statement released last week. "As we improve the environment with cleaner cars, we must also consider how it affects those on bikes and on foot."
Action taken by NHTSA would lay the groundwork for proposed rulemaking to help pedestrians detect the presence of quieter vehicles. NHTSA will have a year to write specific standards for the noise regulation and will have until January 2014 to publish the final rule.
A 2009 NHTSA study conducted on 8,387 hybrids and 559,703 conventional vehicles showed the "incidence rate of pedestrian crashes in scenarios when vehicles make turns was significantly higher" for hybrids. It also concluded that hybrids were "two times more likely to be involved in a pedestrian crash" while slowing, stopping, backing up, and entering or leaving a parking space.
Advocates for the blind have long contended that hybrids are more dangerous than conventional vehicles because they are quieter. An informal study by the Japanese Federation for the Blind a few years ago concluded that more than half of blind pedestrians were "terrified" of hybrids. In 2009, the Japanese government set up a panel to study the idea of adding noise to hybrids. Proposed sounds included engine noises, music, or even ringtones, like those in cell phones.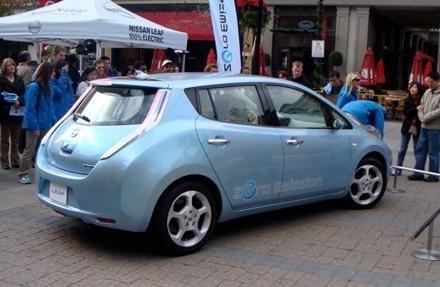 Some automakers are already incorporating sounds on their hybrids and electric vehicles. The Nissan Leaf, for example, emits a high-pitched whine at low speeds, essentially amplifying its electric motor sound. Similarly, General Motors's Chevy Volt includes a "pedestrian-friendly alert system" that emits a noise sounding like a cross between a car horn and bird's chirp. The Volt's sound, which is activated by the driver, is engaged by a steering wheel stalk lever that would otherwise be used by drivers to flash their high beams before they pass.
"When you do your 'flash-to-pass' at low speeds, it activates the horn and lights," GM spokesman Rob Peterson tells Design News. "But at high speeds, only the lights turn on."
GM engineers say they wanted the sound to be quieter than a regular horn -- more of an "excuse me" sound than a "hey you."
The Society of Automotive Engineers (SAE) is also working with automakers to develop sounds for future hybrids and electric vehicles. "We hope that the SAE standards will help shape NHTSA's effort," Peterson says.