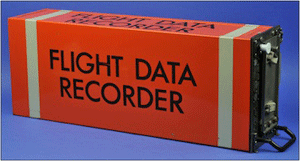 With all the news recently surrounding the discovery of the so-called "black box" flight data recorder (FDR) from the Air France flight that crashed into the Atlantic en route to Paris from Rio de Janeiro, it seemed a good time to explore the inner workings an FDR.

Modern FDRs are, like most current data acquisition devices, largely electronic. In the U.S., the Federal Aviation Administration requires the recording of no fewer than 11 to 29 parameters, depending on aircraft size. Magnetic tape systems can be used to record up to some 100 parameters; solid-state systems can handle 5-10 times that amount or more. On July 17, 1997, the FAA issued a Code of Federal Regulations that requires the recording of at least 88 parameters on aircraft manufactured after August 19, 2002.


Parameters recorded by FDRs include time, pressure (altitude), airspeed, vertical acceleration, magnetic heading, rudder-pedal position, control-wheel position, horizontal stabilizer, control surface positions, fuel flow, etc.
For the Embedded Systems Conference in 2009, David Carey of UBM TechInsights (UBM is the parent company of
Design News
) performed a teardown of an older FDR to get a look at how they actually work.  The model he used was an FA-542 made by Sundstrand.
Older FDR models, such as the FA-542, were developed before the use of magnetic tape or solid state recording become common. Thought these FDRs don't feature the latest electronic advances, they serve as interesting examples of the combination of mechanical and electronic engineering. And they're not completely obsolete. Some aircraft still in service have these types of FDRs installed.
In the FA-542, four transducers (two pneumatic and two electronic) were used to drive foil recording arms. Airspeed and altitude data came in via plumbed lines directly to the FDR to pneumatic actuators positioned alongside motor drives for actuation of recording of pitch/bank.
Four scribing arms were positioned width-wise across an Iconel foil roll to record four flight parameters. The electronics chassis in the FDR housed power conditioning, signal conditioning and transport devices.
With so few flight parameters recorded by these older FDRs, Carey says that much would be left to speculation about the causes of a crash through a combination of FDR data and information obtained from the cockpit voice recorder.
Though FDRs quickly evolved from foil recording to magnetic tape and solid state over the past several years, the newer models are not publicly available for teardown and inspection. Carey actually found this older foil recorder on eBay.
Despite the internal advances made in FDRs over the years, Carey contends that enclosures for FDRs have remained fairly static due to the fundamentals of mechanical survivability in the event of a crash.