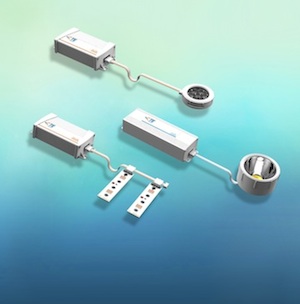 A new design platform aims to help engineers select LEDs, drivers, wiring, heat sinks and virtually every other component that's need in an LED-based lighting system.


Known as the
Nevalo SSL system
, the new platform purports to speed the LED (light-emitting diode) design process and help engineers get their products to market faster. The maker of the platform,
TE Connectivity
(formerly known as Tyco Electronics), says it is making a special effort to target mechanical engineers who aren't yet familiar with the controls, optics and heat transfer issues associated with LED-based systems.
"We're trying to make this simple, so that non-electrical engineers can match up their drivers to the right light modules," notes Rob Rix, vice president of lighting communications and industrial solutions for TE Connectivity. "With this, you don't have to learn the electronics, you don't have to learn how to source an LED, and you don't have to learn all the thermal management aspects of it."          
The Nevalo system includes more than 60 LED light module options ranging from 300 to 3,400 lumens, along with optics, drivers, dimmer controls, temperature monitoring, wiring and heat sinks for thermal management. Printed circuit boards are stamped with forward voltage numbers to help designers match them to the proper drivers, and are color-coded to enable engineers to choose the right module for their application's input current.           
TE Connectivity also developed a thermal test instrument for the system. "They can take the thermal board, put it in a fixture, plug it to their PC through a USB (port), and instantly get a readout of the thermal performance of their system," Rix says. The test instrument uses green, yellow and red lights to let users know if their system includes sufficient heat dissipation capabilities.
"It normally takes a designer a long time to figure out an LED lighting system," Rix says. "We're trying to simplify that and speed their time to market by giving them the right tools."