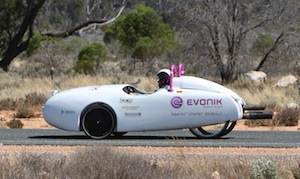 German extreme sports enthusiasts Dirk Gion and Stefan Simmerer made a 17-day journey across Australia in late January powered by wind and lithium-ion batteries.


The electric-powered two-seat car, developed in Germany, weighs just 441 lb and has a range of 249 miles. The body of the
Wind Explorer
is made primarily of carbon fiber reinforced plastic (CFRP) composite that surrounds a lightweight structural foam core called
Rohacell
. Its lithium-ion batteries are charged by a mobile wind turbine or-in exceptional cases-in the conventional way from the power grid.
The wind turbine and a 6-meter-high telescopic bamboo mast can be set up within 30 mins. In addition to wind power, the vehicle was propelled partly by parasail-style kites. The kites pushed the Wind Explorer to a top speed of 50 mph on the approximately 3,045-mile stretch from Albany on the Indian Ocean to Sydney.
If trees came close to the edge of the road, Gion was able to steer the kite directly above the car and Simmerer provided control through acceleration.
The wind turbine carried on board produced enough energy for the full range of the vehicle (249 miles). In comparison, that's enough electricity to wash and dry two loads of laundry. The turbine charged the batteries during rest stops.
Rohacell technology from Evonik is a polymethacrylimide (PMI) rigid foam that is used in aircraft, helicopters, trains and ships, and is gaining ground in automotive construction. It allows weight savings of 60 percent compared to standard steel parts.
"And every gram of weight saved reduces CO
2
emissions in conventional fuel vehicles and increases the range of the electric vehicles of the future," says Stefan Plass, who is responsible for Rohacell business at Evonik, a chemicals and plastics producer based in Essen, Germany.