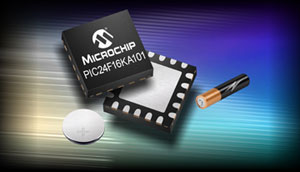 Using common radio waves for power, sensor networks may soon be able to eliminate the need for ac sources and batteries.



Click here for larger image.

A new technology, introduced late last year, enables sensors and microcontrollers to draw small amounts of electrical current from nearby radio frequency (RF) transmitters, and then use the power to operate autonomously for years. Developers of the technology say it could offer significant advantages for hotels, hospitals, schools and office buildings, as well as for users of wearable medical and sports devices.
"People are looking at a range of applications, including building automation, HVAC control and small defense systems," says Harry Ostaffe, vice president of marketing and business development for
Powercast Corp.
, maker of the new RF energy harvesting technology. "A lot of potential users have great interest in being able to deploy sensor systems that don't need to be maintained."
Powercast's RF technology joins other
hot new energy harvesting power sources
- including solar, thermal and vibration -- that are drawing interest from makers of electronic building control systems and manufacturers of mobile electronic products.
Trane
, for example, recently employed Powercast's
Powerharvester
in a hospital HVAC system, where they used it to send power to controllers that "watch" the temperature, humidity, oxygen and CO
2
levels in individual rooms. By employing the Powerharvester, Trane engineers say they were able to cut power consumption, reduce labor costs and eliminate the need to send technicians into hospital rooms.
"We wanted to be able to get the temperature or humidity information from a room where there might be three or four patients, and be less invasive and not interrupt medical procedures," says Scott Repsher, a controls project engineer for Trane. "This way, we can do it without ripping down walls, running conduit or drilling holes."
Trane accomplishes that by employing Powercaster RF transmitters in the hospital hallways near the rooms. The 3W transmitters broadcast RF signals at 915 MHz (a frequency commonly used in cordless phones and baby monitors) from the hallways to antennas in the rooms. Powerharvester wireless receivers in the rooms then convert the RF signals to dc current, storing the current in capacitors for use by a wireless sensor system. The sensor system, which includes a
PIC24F XLP microcontroller
and
wireless transceiver
from
Microchip Technology Inc.
, uses the current from the Powerharvester to collect data from the sensors. It then sends the data out over a 2.4-GHz wireless signal to the hospital's building management system.
Powercast's system enables users such as Trane to work without batteries or ac power. For those who are willing to use batteries, Powercast also offers
a separate Powerharvester that enables users to store onboard energy.
Trane engineers, who are still evaluating the technology, say they like its potential to eliminate batteries. "Batteries lead to service life issues," Repsher says. "If you look at it from a service point of view, do you really want to send techs out in the field and have them change 300 batteries?"
Bright Future
Powercast engineers say that one of the keys to the technology's success is the availability of low-power microcontrollers and transceivers to run the sensor applications. That's why the company teamed with Microchip late last year to roll out a specialized
development kit
. The kit includes a wireless sensor module with low-power microcontroller and transceiver, an RF transmitter, evaluation and development boards, and a software programmer/debugger.
Low-power components are critical for industrial and consumer applications because the amount of electrical current available from RF transmitters is miniscule, especially as they move farther away from the application. Engineers say it's not unusual for such energy-harvesting systems to deliver microwatts of power. For that reason, the two companies' development kit includes a microcontroller that consumes as little as 8 µ in its least power-hungry run mode, and as little as 20 nA in sleep mode.
Still, potential applications for the technology are multiplying fast. Powercast says it's talking to defense contractors, server farms, energy providers, and even structural engineers for applications on bridges and buildings. They also believe the technology could be used in medical monitoring bracelets and fitness applications.
"We can support applications where they use rechargeable batteries or where they don't want to use batteries at all," Ostaffe says. "In some applications, we can potentially eliminate the batteries by using RF."
Some experts say that the best strategy for such applications is still to back them up with a battery. "My recommendation to anyone who's doing (energy) scavenging is to throw in a battery," says Kris Pister, chief technology officer of
Dust Networks
and a professor of electrical engineering and computer science at the University of California-Berkeley. "That way, if you're scavenging goes away, you've still got the battery to give you years of lifetime. And if you've still got your scavenging, then you're not draining the battery."
Pister says that some lithium thionyl chloride coin-sized cells offer extremely low leakage, making them strong candidates for energy-scavenging applications. One manufacturer of the technology,
Tadiran Batteries
, reports that its batteries have self-discharge levels of less than 1 percent per year, and claims that its batteries routinely last more than 25 years.
With or without batteries, however, the future of energy scavenging in wireless sensor networks is believed to be bright. "Low-power wireless sensors are going to be everywhere," Pister says. "There's hardly an industry that wouldn't benefit from more sensor data. And having energy harvesting to power them makes a lot of sense."