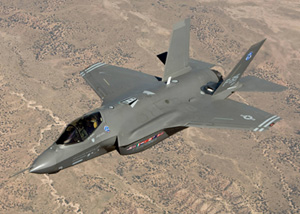 Additive manufacturing of plastic parts is expected to play a role in reducing costs of the F-35 Lightening II, also known as the Joint Strike Fighter Program.

"As many as 1,600 parts per plane have been identified that could be made from high-temperature laser sintered PEEK (polyetheretherketone)," says Scott Killian, a business development manager at Royal Engineered Composites of Minden, NE.

Possible applications include duct work and brackets that attach sections. PEEK would replace aluminum.


Killian says that hundreds of the parts can be produced in a single build with an EOS P800, which has a build envelope measuring 27.6 x 15.0 x 21.7 inch (700 x 380 x 550 mm). High-temperature laser sintering (HTLS) is a system in which parts are melted or sintered together from many thin layers of powdered material. It allows design complexities that are not possible with traditional machining or injection molding processes.
Electro Optical Systems (EOS) of Munich Germany and Victrex of Lancashire, England
announced
in late 2009 the development of PEEK as an HTLS material, partly because of its potential for demanding aerospace applications.
PEEK has outstanding mechanical properties, good chemical resistance and flame and temperature resistance.
Before PEEK was developed for HTLS systems, only standard nylons were available for engineering applications. Killian said that some of the JSF applications may be located near high-heat generating areas such as the engine or near the outside of the aircraft. Specifications require the capability to withstand temperatures ranging from -60 to 300F.
Some of the PEEK parts used in the JSF may be carbon-fiber reinforced.
Three companies now have the capability to provide high-performance polymers for HTLS: Victrex, Arkema and Evonik. Emerging materials' capabilities for the HTLS process were a hot
topic
at K2010 held late last year in Düsseldorf, Germany because of the tremendous potential of the process. In a press conference, Jean-Pierre Marchand, director of marketing and innovation for Rhodia's Engineering Plastics, announced the launch of polyamide (PA) powders for SLS.
The F-35 Lightning II is a family of fighters under development to perform ground attack, reconnaissance, and air defense missions with stealth capability. Thirteen test models have been built to date. Large-scale production is still two to five years off.
The United States expects to buy a total of 2,443 aircraft for an estimated $323 billion.
Cost estimates have risen sharply, prompting efforts to find new technologies, such as HTLS, that can reduce costs.
Lockheed Martin Aeronautics is the prime contractor. Northrop Grumman provides center fuselage, weapons bay, and arrestor gear. Partners with Royal Engineered Composites include Boeing and Northrop Grumman.