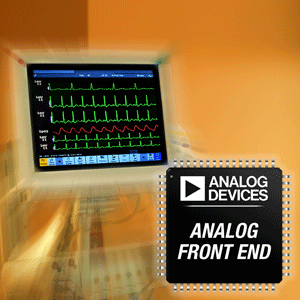 The medical device industry may be on the verge of creating Band-Aid™-sized wearable devices capable of performing electrocardiograms (ECGs) and monitoring blood pressure, respiration and body temperature.

Engineers at the Medical Design & Manufacturing West conference held in Anaheim, CA this week, introduced ECG-on-a-chip technology and said other chip-based medical measurements are already possible. Several electronics companies at the show also said they're working with medical device manufacturers on developing over-the-counter products that could use the technology and be available in the next 12-18 months.

"Tiny is what people are looking for," said Patrick O'Doherty, vice president of the Healthcare Segment for Analog Devices Inc. "This technology will be clipped on peoples' belts and go inside Band-Aids."

At the MD&D show, Analog Devices rolled out the ADAS1000 ECG analog front end, which reduces a conventional 4 x 6 inch ECG printed circuit board containing 50 components into a single silicon chip. Similarly, Belgium-based Imec showed off its ECG chip, which is already being employed in the company's ECG necklace. Those two companies were joined by Texas Instruments, which rolled out its ECG-capable analog front end last year.

The new breed of ECG chips is expected to enable development of products that are radically different from anything that's been available previously. With the chips, engineers expect to be able to incorporate ECG capabilities in a small stickable bandage containing an ECG chip, a wireless transceiver and four or five electrodes. Such products would eliminate the jumble of criss-crossed wires often associated with ECGs because they would send their information wirelessly.

"People who get an electrocardiogram won't need to be wrapped up in leads anymore," O'Doherty said.

If the technology receives widespread adoption, it would also open the door to a multitude of other possibilities. Temperatures, for example, could be taken by stickable bandages. The same would hold for blood pressure measurements, pacemaker pulse detection and respiration. The technology might also be used to alert individuals whose hearts have gone into atrial fibrillation.

As yet, no Band-Aid-sized ECGs have been deployed in the marketplace. For an entire system, engineers need to add a wireless transceiver, microcontroller or DSP (digital signal processor), and associated analog components. ADI engineers said, however, that medical OEMs are working on the bandage-sized technology today, and such products could be introduced soon.

"This raises the bar," said Tony Zarola, strategic marketing manager for ADI's Healthcare Segment. "It definitely gives us a line of sight to a deployable system."

             



Enabling the Future is designing prosthetic appendages modeled more like superhero arms and hands than your average static artificial limbs. And they're doing it through a website and grassroots movement inspired by two men's design and creation in 2012 of a metal prosthetic for a child in South Africa.
In order to keep an enterprise truly safe from hackers, cyber security has to go all the way down to the device level. Icon Labs is making the point that security has to be built into device components.
Senior Technical Editor Chuck Murray gets the skinny on Harting Inc.'s 3D MID technology, which allows users to create a three-dimensional circuit board out of molded plastic.

1
Three days after NASA's MAVEN probe reached Mars, India's Mangalyaan probe went into orbit around the red planet. India's first interplanetary mission, and the first successful Mars probe launched by an Asian nation, has a total project cost of nearly $600 million less than MAVEN's.
Siemens PLM Software has made an in-kind donation of software to Central Piedmont Community College in North Carolina for its science, technology, engineering, and mathematics (STEM) Division.

Focus on Fundamentals consists of 45-minute on-line classes that cover a host of technologies. You learn without leaving the comfort of your desk. All classes are taught by subject-matter experts and all are archived. So if you can't attend live, attend at your convenience.
Next Class: September 30 - October 2