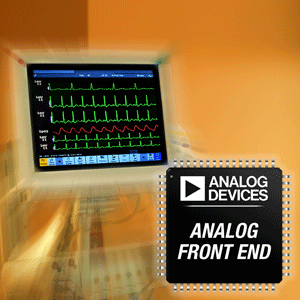 The medical device industry may be on the verge of creating Band-Aid™-sized wearable devices capable of performing electrocardiograms (ECGs) and monitoring blood pressure, respiration and body temperature.

Engineers at the Medical Design & Manufacturing West conference held in Anaheim, CA this week, introduced ECG-on-a-chip technology and said other chip-based medical measurements are already possible. Several electronics companies at the show also said they're working with medical device manufacturers on developing over-the-counter products that could use the technology and be available in the next 12-18 months.

"Tiny is what people are looking for," said Patrick O'Doherty, vice president of the Healthcare Segment for Analog Devices Inc. "This technology will be clipped on peoples' belts and go inside Band-Aids."

At the MD&D show, Analog Devices rolled out the ADAS1000 ECG analog front end, which reduces a conventional 4 x 6 inch ECG printed circuit board containing 50 components into a single silicon chip. Similarly, Belgium-based Imec showed off its ECG chip, which is already being employed in the company's ECG necklace. Those two companies were joined by Texas Instruments, which rolled out its ECG-capable analog front end last year.

The new breed of ECG chips is expected to enable development of products that are radically different from anything that's been available previously. With the chips, engineers expect to be able to incorporate ECG capabilities in a small stickable bandage containing an ECG chip, a wireless transceiver and four or five electrodes. Such products would eliminate the jumble of criss-crossed wires often associated with ECGs because they would send their information wirelessly.

"People who get an electrocardiogram won't need to be wrapped up in leads anymore," O'Doherty said.

If the technology receives widespread adoption, it would also open the door to a multitude of other possibilities. Temperatures, for example, could be taken by stickable bandages. The same would hold for blood pressure measurements, pacemaker pulse detection and respiration. The technology might also be used to alert individuals whose hearts have gone into atrial fibrillation.

As yet, no Band-Aid-sized ECGs have been deployed in the marketplace. For an entire system, engineers need to add a wireless transceiver, microcontroller or DSP (digital signal processor), and associated analog components. ADI engineers said, however, that medical OEMs are working on the bandage-sized technology today, and such products could be introduced soon.

"This raises the bar," said Tony Zarola, strategic marketing manager for ADI's Healthcare Segment. "It definitely gives us a line of sight to a deployable system."

             



General Motors is putting an off-road twist on hydrogen fuel cell technology with an imposing new pickup demonstrator called the Chevrolet Colorado ZH2.
Fine powder printing of industry-standard metal and ceramic powders with a grain size of less than 10 microns is now available from industrial 3D printer maker ExOne for its Innovent printer.
At ARM TechCon 2016, CEO Simon Segars will discuss how he sees billions of devices scaling to trillions as IoT applications proliferate. We know it's happening. How do we prepare?

2
The term "autopilot" is now at the heart of a growing debate between Tesla Motors Inc. and Germany's Federal Motor Transport Authority.

1
A make-your-own Star Wars Sith Lightsaber hilt is heftier and better-looking than most others out there, according to its maker, Sean Charlesworth. You can 3D print it from free source files, and there's even a hardware kit available -- not free -- so you can build one just in time for Halloween.

Focus on Fundamentals consists of 45-minute on-line classes that cover a host of technologies. You learn without leaving the comfort of your desk. All classes are taught by subject-matter experts and all are archived. So if you can't attend live, attend at your convenience.
Next Course September 27-29: