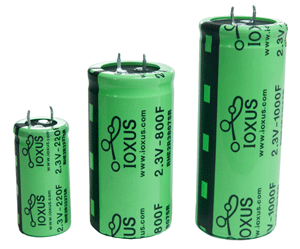 A new hybrid capacitor reportedly offers twice the energy density of conventional ultracapacitors, making it a candidate for products ranging from flashlights and hand tools to LED systems and start/stop motors for automobiles.

By combining the best features of ultracapacitors with lithium-ion batteries, the new hybrid ultracapacitor could enable end products to charge up more quickly, go longer between charges and go for tens of thousands of cycles between replacement. "This offers a significant increase in energy density, and in the world of ultracapacitors, energy density is key," says Mark McGough, chief executive of Ioxus Inc., maker of the new hybrid capacitor.

Ioxus is believed to be one of two companies worldwide that is now making a hybrid lithium-ion ultracapacitor. The key to doing so is the company's ability to find an electrolyte that is compatible with the product's two electrodes, one of which is made from a lithium-ion material. "Having an electrolyte that can provide optimum performance and not destroy either of the electrodes - that's the secret sauce," McGough says.
He says the hybrid product offers an energy density of about 4 Wh/kg, whereas conventional ultracaps are closer to 2 Wh/kg.
The technology could be particularly useful in light-emitting diode (LED) applications because LEDs use far less electrical current than conventional incandescent bulbs.
"Instead of getting 10 minutes of light in your flashlight that's powered by a conventional ultracapacitor and a light bulb, you can combine this with an LED and get three hours of light," McGough says. "And not only do you get longer duration of illumination, but you get quick charge capability, too." He adds that a pair of the hybrid capacitors could power a flashlight for three hours on a 90-second charge.
McGough contends that a hybrid ultracapacitor the size of a lunch bucket could power a start/stop system in an automobile. He believes that the technology could play a big role there as automakers adopt start/stop technology in the next few years. He also foresees the technology serving in wind turbines, off-grid lighting and other automotive applications, including power windows and door locks.