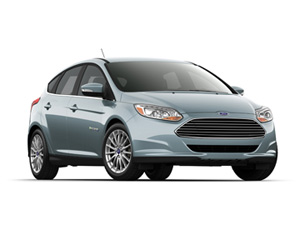 Ford Motor Co. said today it is packing its Focus Electric vehicle with a suite of information technologies that will transform the driving experience for its owners.

The forthcoming EV, on display at the North American International Auto Show, will use electronics to keep drivers in touch with its remaining driving range in virtually every conceivable situation. Unique electronic features for the car include a MyFord Touch driver connect system tailored for EVs, a charging feature powered by Microsoft
software and a smart phone application called MyFord Mobile that helps drivers control their electric vehicles remotely.
"Ford wants to make driving and living with electric vehicles as seamless as possible," noted David Finnegan, marketing manager for Ford electric vehicles.
The vehicle, which will have an all-electric driving range of about 100 miles, will provide drivers with a multitude of ways to check their remaining charge. The MyFord Touch feature provides a dashboard icon showing the battery state of charge, and even works with GPS to determine whether drivers can make it to their remaining destinations.
Similarly, the MyFord Mobile provides charge information to smart phone screens and computer displays, and even employs a Microsoft software app to work with owners to re-charge their vehicles in the middle of the night, when electricity rates are lower. MyFord Mobile even includes an app that memorizes a person's driving habits (classifying them in categories ranging from "zippy" to "zen") and then uses that information to make range calculations. It also alerts drivers to the presence of the nearest charging stations.
Ford said today that it has also teamed with Best Buy's Geek Squad to work with owners to install home chargers for the electric vehicles.
Such features are considered critical for EV owners because of concerns over the lack of range in existing EVs. Nissan's Leaf, for example, claimed a 100-mile range before the EPA re-calculated it at 73 miles. And in a recent Wall Street Journal test, the Leaf began running out of charge at 49.5 miles when the driver was running the heater.
EV manufacturers, however, contend that a prescribed niche of drivers don't need large amounts of range, and can be happy with pure electrics as long as they have a good understanding of the battery's remaining state of charge.
Ford said that the Focus Electric, due out late in 2011, will employ a 23-kWh battery capable of fully charging in about three to four hours using a 240V station. Ford says the Focus Electric's charging time is about half that of the Nissan Leaf, which came out late last year.
Ford did not offer cost information about the battery. "The technology and pricing of electric car batteries is moving quite quickly right now," says Finnegan.
Ford representatives said that the Focus Electric is part of the company's larger electrification plan, which also includes an electric van, a plug-in hybrid and a conventional hybrid. "Different customers will have different needs," says Finnegan. "Ford's strategy is to offer all these different types of technologies and create a broad base of vehicles."