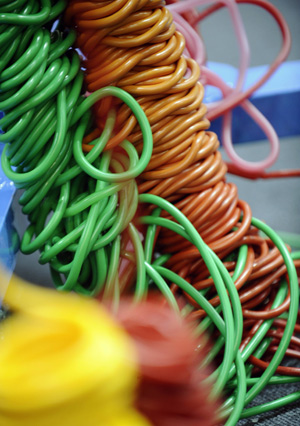 An interesting new option for wiring used in consumer and other electronics applications is a plasticizer based on natural ingredients.

Traditional polyvinyl chloride (PVC) plasticizers use phthalate chemicals that are said to mimic human hormones and adversely affect various life forms. Plasticizers provide flexibility, an important requirement for wiring.


Dow recently introduced
Ecolibrium
Bio-Based Plasticizers, which are phthalate-free and made from nearly 100 percent renewable feedstocks. The bio-component is modified vegetable oil.
The plasticizers "are being qualified by a number of Dow customers at this time," a spokesman told
Design News
. They cost a premium above traditional plasticizers, but the spokesman declined to provide details.
Dow says bio-based plasticizers exhibit the same performance and feel as incumbent PVC plasticizers while meeting all regulatory requirements for flame resistance.
Dow Wire & Cable will license select cable makers to commercialize the bio-based plasticizers with technical support from the company.
"Dow Ecolibrium Bio-Based Plasticizers are truly a breakthrough for the wire and cable industry but their introduction here is just the tip of the iceberg-in time they will also open up differentiation opportunities for OEMs in other industries that use PVC compounds," says Jonathan Penrice, global marketing director for Dow Wire & Cable.
Other target markets are building and construction and automotive.
Dow hopes sales of the bio plasticizer will get a boost from the U.S. Green Building Council's
LEED
(Leadership in Energy and Environmental Design) Rating Systems, which put an emphasis on green products.
The new plasticizer is currently being produced at Dow sites in North America but will be produced in other geographies based on demand. Dow capacity data is confidential.