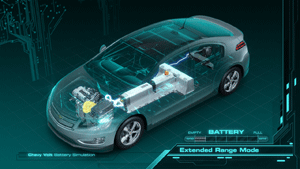 The introduction of the Chevy Volt may stand as a testament to the engineering prowess of General Motors, but it's also a product of a huge collaboration between the giant automaker and IBM Corp.

The two companies announced jointly last month that the use of IBM software, hardware and services enabled GM to cut the Volt's development time in half, reduce the amount of crash testing and manage the vehicle's round-the-clock worldwide design effort.

"We helped them create an environment where all the tools worked together, everyone was designing on the same footprint and engineering data was shared on a global basis," says Mark Lefebvre, marketing director for IBM Rational Software. "It was about helping them transform the way they do vehicle design."

IBM aided GM's effort by employing
Rational Doors
software to help engineers write system requirements, and by using
Rational Rhapsody
for performance and compliance testing. Also, a software environment called
Rational Team Concert
served as a data backbone, enabling engineers around the world to share models, part information and software code.
IBM says it also helped GM standardize its business procedures around the vehicle design effort by calling on
IBM Global Services
to support product design and life cycle management. Finally,
IBM Power Series
servers helped with simulations of vehicle environments and crashes, while IBM Power supercomputers put the Volt's lithium-ion battery pack through its paces. With the supercomputers, GM engineers were able to test the battery for such phenomena as short circuiting, corrosion, water submersion and crash resistance. With the use of the server- and supercomputer-simulation, the automaker was able to reduce the number of physical crash tests down from 600 to about 400.  
As a result, GM was able to hits its original goal of late-2010 deployment, despite the fact that it announced the vehicle to the public at the Detroit Auto Show in January 2007. "They shortened their development cycle to 29 months, whereas it's typically at least twice that for a vehicle like this one," Lefebvre says. "We've seen some manufacturers take as long as 10 years to bring an advanced technology vehicle to market."