Automation & Motion Control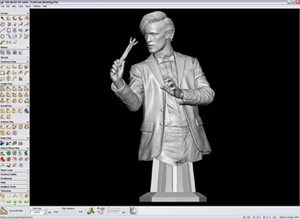 SensAble Technologies has updated its FreeForm 3-D modeling application with an array of new design functionality along with advanced tools that let designers analyze how easily their models can be manufactured.

The new FreeForm version 11, aimed at product designers of hard-to-manufacture goods and those working with organic shapes, offers new parasolid editing features that enable seamless transference of detail onto a solid model from virtual clay. With its new "sculpt and refit" process, Freeform now eliminates the need for surfacing, cutting, trimming or stitching of the original solid-based model.

A new Lattice Deform tool can facilitate the design of more sophisticated deformations, allowing users to target and restrict work to a very specific area of the model or even address multiple pieces to be deformed as a single unit, company officials said. For example, this new capability would allow a designer working on a multi-piece model of a toy soldier with a detailed uniform and accessories to simultaneously re-proportion the 3-D shapes of all the items in one operation.

In the area of new and improved workflows, FreeForm version 11 lets users define volumetric shapes with a simple curve network using one click to create a solid model. In addition, a new Fill to Plane model prep tool helps simplify the creation of the core (referred to as the positive of the model) for the main tooling used in the creation of vacuum-formed packaging.

To help users better explore the manufacturability of their designs, the upgrade ushers in a number of new functions, including the ability to easily position low-resolution copies of model pieces to quickly determine the most efficient layout for the family mold. A new Ring Patch tool creates transitional surfaces from a perimeter parting line to the main parting line surface of a mold - a capability designed to reduce design time.

Enhanced analysis tools bundled in the upgrade include Analyze Fit, for displaying color layers for assessing how closely two pieces of a model fit together, and Analyze Thickness, another color mapping tool that helps designers minimize excess material costs, design for part strength and accommodate injection molding requirements related to material flow and cooling.



A few weeks ago, Ford Motor Co. quietly announced that it was rolling out a new wrinkle to the powerful safety feature called stability control, adding even more lifesaving potential to a technology that has already been very successful.
It won't be too much longer and hardware design, as we used to know it, will be remembered alongside the slide rule and the Karnaugh map. You will need to move beyond those familiar bits and bytes into the new world of software centric design.
Made By Monkeys highlights products that somehow slipped by the QC cops.

3
People who want to take advantage of solar energy in their homes no longer need to install a bolt-on solar-panel system atop their houses -- they can integrate solar-energy-harvesting shingles directing into an existing or new roof instead.
Jet engine maker Pratt & Whitney sees additive manufacturing as a production approach that's complementary to -- not a replacement for -- traditional manufacturing processes.

Focus on Fundamentals consists of 45-minute on-line classes that cover a host of technologies. You learn without leaving the comfort of your desk. All classes are taught by subject-matter experts and all are archived. So if you can't attend live, attend at your convenience.