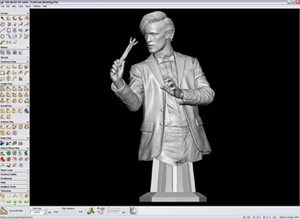 SensAble Technologies has updated its FreeForm 3-D modeling application with an array of new design functionality along with advanced tools that let designers analyze how easily their models can be manufactured.

The new FreeForm version 11, aimed at product designers of hard-to-manufacture goods and those working with organic shapes, offers new parasolid editing features that enable seamless transference of detail onto a solid model from virtual clay. With its new "sculpt and refit" process, Freeform now eliminates the need for surfacing, cutting, trimming or stitching of the original solid-based model.

A new Lattice Deform tool can facilitate the design of more sophisticated deformations, allowing users to target and restrict work to a very specific area of the model or even address multiple pieces to be deformed as a single unit, company officials said. For example, this new capability would allow a designer working on a multi-piece model of a toy soldier with a detailed uniform and accessories to simultaneously re-proportion the 3-D shapes of all the items in one operation.

In the area of new and improved workflows, FreeForm version 11 lets users define volumetric shapes with a simple curve network using one click to create a solid model. In addition, a new Fill to Plane model prep tool helps simplify the creation of the core (referred to as the positive of the model) for the main tooling used in the creation of vacuum-formed packaging.

To help users better explore the manufacturability of their designs, the upgrade ushers in a number of new functions, including the ability to easily position low-resolution copies of model pieces to quickly determine the most efficient layout for the family mold. A new Ring Patch tool creates transitional surfaces from a perimeter parting line to the main parting line surface of a mold - a capability designed to reduce design time.

Enhanced analysis tools bundled in the upgrade include Analyze Fit, for displaying color layers for assessing how closely two pieces of a model fit together, and Analyze Thickness, another color mapping tool that helps designers minimize excess material costs, design for part strength and accommodate injection molding requirements related to material flow and cooling.




2
This Gadget Freak review looks at Boeing's trusted smartphone device and a solar-powered light tracker designed to help improve your health.

2
Autodeskís new San Francisco facility is full of various workshops that can build particular products for its customers to help them better understand what they are trying to accomplish.

1
Knowing when and how to retire a product is as important to maximizing profits as knowing when to introduce new offerings.

0
Sherlock Ohms highlights stories told by engineers who have used their deductive reasoning and technical prowess to troubleshoot and solve the most perplexing engineering mysteries.

18
Californiaís plan to mandate an electric vehicle market isnít the first such undertaking and certainly wonít be the last. But as the Golden State ratchets up for its next big step toward zero-emission vehicle status in 2018, it might be wise to consider a bit of history.



Datasheets.com Parts Search
185 million searchable parts
(please enter a part number or hit search to begin)