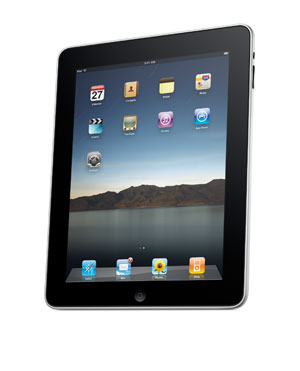 Apple continues to explore new materials' options to reduce the weight of its portable electronic devices, particularly the iPad.

Housings are often made of inexpensive injection molded thermoplastics, which may not afford adequate strength, or stronger materials such as aluminum, which can be heavy.

Design News has previously reported Apple has invested in the LiquidMetal process, in which light nonferrous metals such as titanium and zirconium are molded in a specially developed machine.

Apple also is actively investigating the potential for carbon-fiber reinforced plastics (CFRP), the same material used in the Boeing Dreamliner 787. Apple received a U.S. patent yesterday for a fiber-reinforced housing, apparently intended to replace aluminum in the iPad in response to complaints about the device's weight.

The patent targets the method for using the CFRP. It states: "A spine made from CFRP may support, and be attached to, a CFRP skin. The CFRP spine may be a unitary frame that imparts strength and rigidity to the overall housing and also form at least some of the corners of the frame. In some embodiments, the spine may be rectangular. The skin may be formed from multiple layers of CFRP type material stacked atop each other...The skin may thus have an overall cross shape, such that each arm of the cross may be wrapped around a different side of the aforementioned rectangular spine."

The design overcomes a problem with CFRP: It generally resists conforming to abrupt angles, such as those formed at a corner having right angles. The Apple inventor listed on the patent is Kevin M. Kenney of San Jose, CA. Earlier, Kenney and four others applied for a
patent
for molds used to make carbon fiber composite components, further indicating Apple's growing interest in the technology. The patent application was published in May.
Overcomes problems
Apple, which declined to comment on this article, clearly hopes its new CFRP technologies will overcome two problems with composite molding: 1) expensive and slow manual processing, and 2) inability to produce consistent and blemish-free parts.
"Because resins tend to stick to mold surfaces, removal of a finished part from a mold can be a tricky process that often also involves manual intervention by an operator," Apple comments in one of its patent applications. "Due to these particular examples and other concerns that relate to composite molding, many composite molding processes are highly manual labor intensive by nature, and often result in the formation of parts that are not fully consistent from part to part."
Apple's proposed technology has several components, including extensive use of ejector pins to remove parts from molds. Ejector pins are widely used in thermoplastic injection molds, but they generally are not used in composite processes such as compression molding. Sticky resins such as epoxy used in composites seep into pin shafts or cavities and cause ejector pins to fail. Apple's invention overcomes this problem through use of shaft stoppers that keep pins free of resin. 
Another innovation is the use of special cooling fluids in molds. "A mold base can be adapted to hold one or more mold inserts, with the mold base having one or more internal fluid lines embedded therein to facilitate a fluid-based cooling of components during the formation of a carbon composite-based part,'" Apple says in the patent.
In an interesting twist, fluids may also be used to activate the component ejection system. Apple also envisions using a removable film with a thickness of 10 to 20 microns to facilitate blemish-free component removal.
Apple introduced the iPad in January and sold more than seven million units in just eight months. Goldman Sachs analysts have said that the second version will be thinner and lighter, but it isn't known if iPad 2 will include the new materials technologies, which may also be applied in laptops and other devices. 
When Apple launched the iPad in January, CEO Steve Jobs touted the "highly recyclable" aluminum used in the housing. A switch to CFRP would make the housing much more difficult to recycle. CFRP composites are made with thermoset plastics, which cannot be remelted. They can be ground into tiny bits and used as very expensive filler.
Boeing engineers are
working
with RTP Co. to find a market for compounds made with recycled CFRP composite. That material, however, would be industrial waste, not post-consumer waste.